One vision, many teams: scaling Lean-Agile practices with shared templates and standards
Disclaimer 📢
The version 4.13 is a Cloud version. Therefore, the improvements and new features described below are only available for Cloud customers yet. Of course, they will be available in the next certified version of iObeya for on-premise installations scheduled for Q2 2023. Stay tuned! Stay tuned!
New iObeya news center on cloud platforms
Next time you open iObeya, you may notice a new icon blinking at the top right corner, giving you access to the iObeya news feed. iObeya version 4.13 introduces an in-app news center available on the cloud platforms. We aim to strengthen the connection and to better communicate with our user community.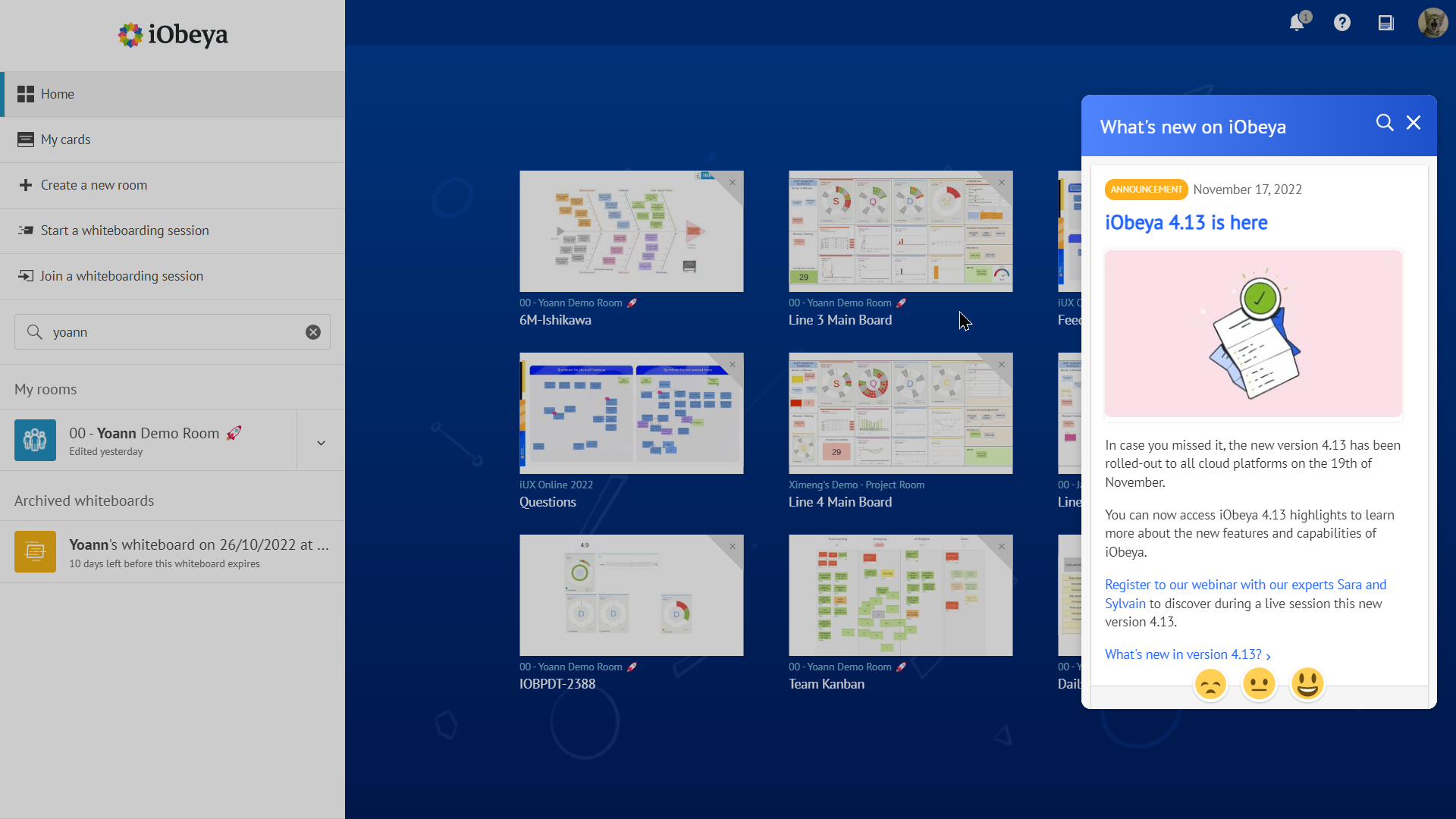 In this news feed, you'll find different types of news coming from iObeya:
Maintenance announcements: our support team will let you know anytime a maintenance operation is scheduled so that you can better anticipate the impact on your activity.
New version highlights: every time we roll-out a new version of iObeya we will introduce you to the new features and capabilities.
Webinars: our iObeya experts regularly host webinars that might interest you. You will be able to see upcoming sessions and save a seat in a few clicks.
Surveys: your satisfaction is our most important performance indicator. Time to time we will share with you some surveys to collect your feedback and better understand how we can improve your satisfaction with iObeya.
By the way, you can already express your feelings about this new version. Log into iObeya, open the news center and click on one of the 3 smileys at the bottom of the message you received regarding iObeya 4.13!

Increase to 25 characters the Value field available in both Standard and Activity cards
The Card tool has been designed to efficiently manage projects and tasks thanks to advanced fields such as Members, Due date, Checklist, Priority and Value. However, we received many requests regarding the limitation of 10 characters for the Value field that you can't use for your own needs.
With iObeya 4.13, the new limit of the Value field has been increased to 25 characters for both Standard and Activity cards allowing you to add more content if needed.
Ability for room admins to archive rooms
After releasing the room self-service management feature that allows all users in a domain to create a room as long as some licenses are available, we have now added the capability for room administrators to archive their rooms from the Room Settings panel.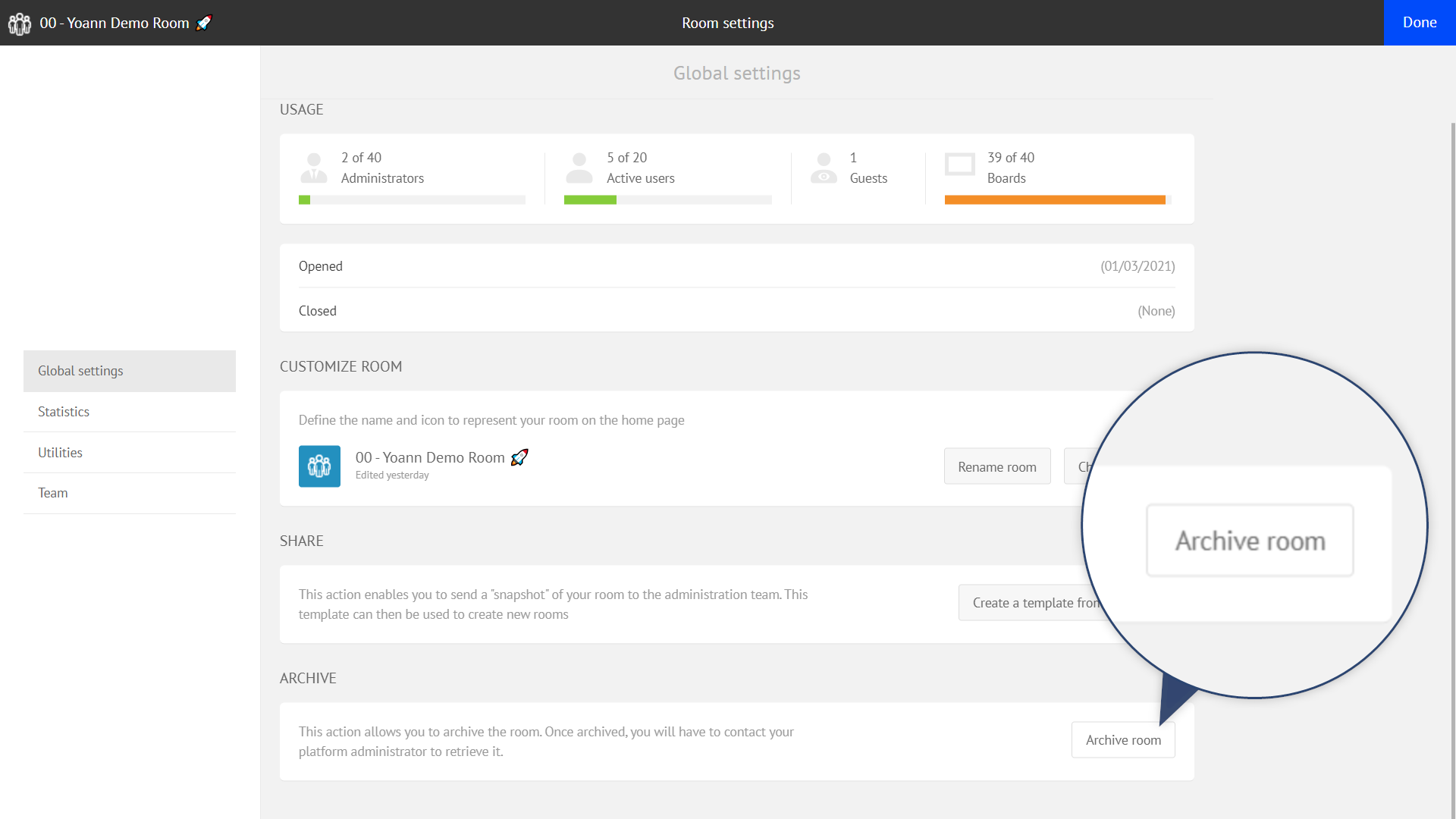 This feature may be very helpful for Agile & Lean coaches that regularly need to create and archive rooms to host internal workshops or training sessions, for instance.
Like the self-service management features allowing to create and rename rooms, this new capability can be activated on each domain from the platform administration interface.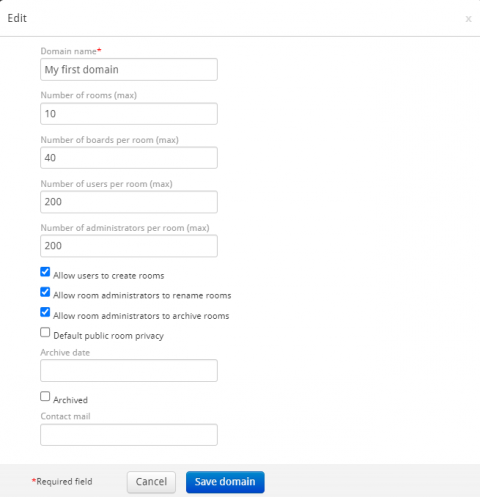 Therefore, you can still create a dedicated domain on your platform with a limited number of licenses so that your teams can use iObeya in complete autonomy. It's up to you to decide if you want to keep control over license consumption or if you prefer to give that responsibility to Lean-Agile managers so they can benefit from unused licenses on your platform.
QCD add-on (Enterprise plan)
Reminder
☝
This is an add-on that need to be installed and activated on your iObeya platform. If you can't find it, you need to request to your platform administrator to install
this add-on.
Creation of an on/off option for escalated actions displayed via the action table mode 3 ("All rooms")
In iObeya 4.8 we had to make some changes to how escalated actions can be viewed from an action table, due to security and privacy constraints. Before version 4.8, when an action was escalated, all users could access it, even those who did not have access to the source room from where the action was escalated. So, with QCD action tables configured in mode 3 ("All rooms"), all actions whether escalated or not, were accessible from the action plan view. This was effectively identified as a loophole by our security team and we made changes in version 4.8 to block this loophole, thereby, blocking access to all actions in the escalated room if a user did not have access to the source room.
After feedback from many of our users on how this change blocked their day-to-day activity, we have created a workaround in the form of an "option" in the QCD escalation settings.
So what does this option do? Well, by default this option is turned "off" in the room preventing users from accessing QCD actions they should not access. When this option is turned "on" by a room administrator, it will allow users that do not have access to the source room to view its "escalated actions" via the action tables configured in mode 3. Actions that have not been escalated remain inaccessible in accordance with the standard permission management system.
While some of you would like to give access to actions of a specific room to all users, there are many clients who would like to keep their QCD actions shared in some rooms private, for example, rooms dedicated to R&D which might contain sensitive information.
This new option gives room administrators the flexibility to now choose between the two privacy modes!
Display indicator values on QCD charts
It's been a long time coming, but it's finally here! We understand how important it is for you to have a Visual Management System with QCD charts that display indicator values so that you can see and analyze your KPIs trends leading to better decision making.
Maintaining our goal of offering flexibility with the QCD module you will be able to display values on the charts, for short term as well as long term, independently from the settings of your charts. All you have to do is to go into the settings of your QCD charts and activate the new "Display Values" option.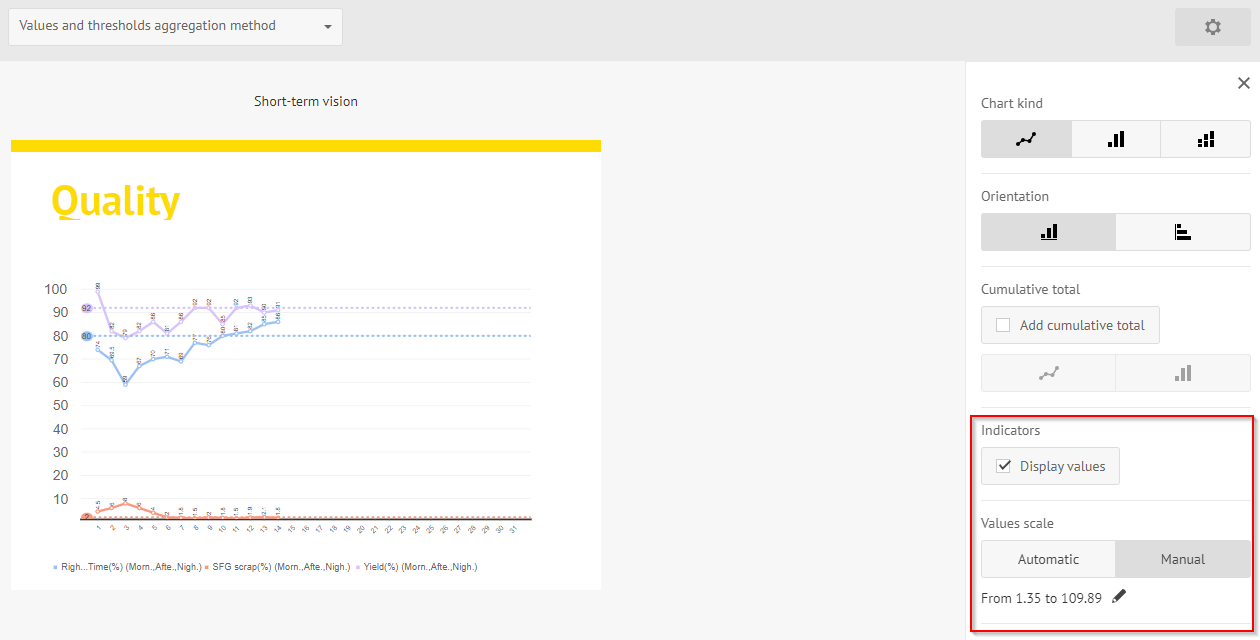 With this change, we also took the opportunity to give our users easier access to the chart scale settings to better adapt to the need for precision. We decided to move the scale settings from the advanced configuration panel to the general settings of the QCD charts.
Bringing more Precision to Chart Axes
Another thing that we have improved with our charts is the level of precision on the axes of the charts. High-precision production environments required data visualization with higher precision. For this reason, QCD charts will now be supporting decimal values on both vertical (Y) and horizontal (X) axes.
We have also increased the number of graduations between your scale values on the Y axis so that even the smallest difference between indicator values can be visualized, for instance looking if your "Right First Time" indicators are closer to 99% or 100%
Reminder
☝
These are add-ons that need to be installed and activated on your iObeya platform. If you can't find them, you need to request to your platform administrator to install the
Agile add-on
,
Jira connector
and/or the
Azure DevOps connector.
Display the sprint dates automatically in the tables for ADO and Jira connectors
The sprint table available for both Jira and Azure DevOps allows you to visualize and plan your work while helping you to also control your load according to your capacity. In order to improve your Agile teams' efficiency during rituals such as PI planning or sprint planning, we have added the sprint dates at the top of each column on the sprint table.
Therefore, in this latest version, when users create new sprint tables, iObeya will automatically display the sprints' start and end dates if they have previously been defined in Azure DevOps or Jira.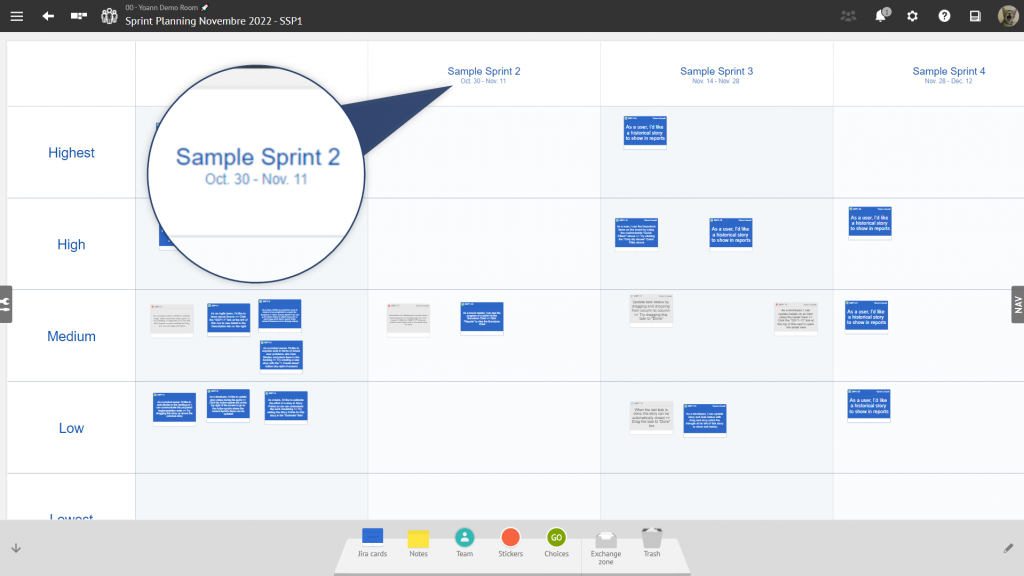 Beware: this new feature will not automatically apply on your existing sprint tables created before the version 4.13 of iObeya. However, you can easily export your boards and re-import them in your room to display the sprint date at the top of each column.
Moreover, if you change the dates defined in Jira or Azure DevOps, the information is not automatically updated in iObeya. You will have to follow the workaround procedure described above to update the dates on any existing sprint boards.
Being able to display in read-only mode the configuration of a Jira board
In the Jira connector, the tables (Sprint, Kanban & Free table) allow you to visualize and easily manage your Jira cards on specific axes and also update issues directly from iObeya.
However, once a board is created, it is difficult for users to understand the configuration of a Jira table and what data they are using. Therefore, in the version 4.13 of our Jira connector, we have added the capability to display the configuration settings of existing Jira tables at both the room and board levels.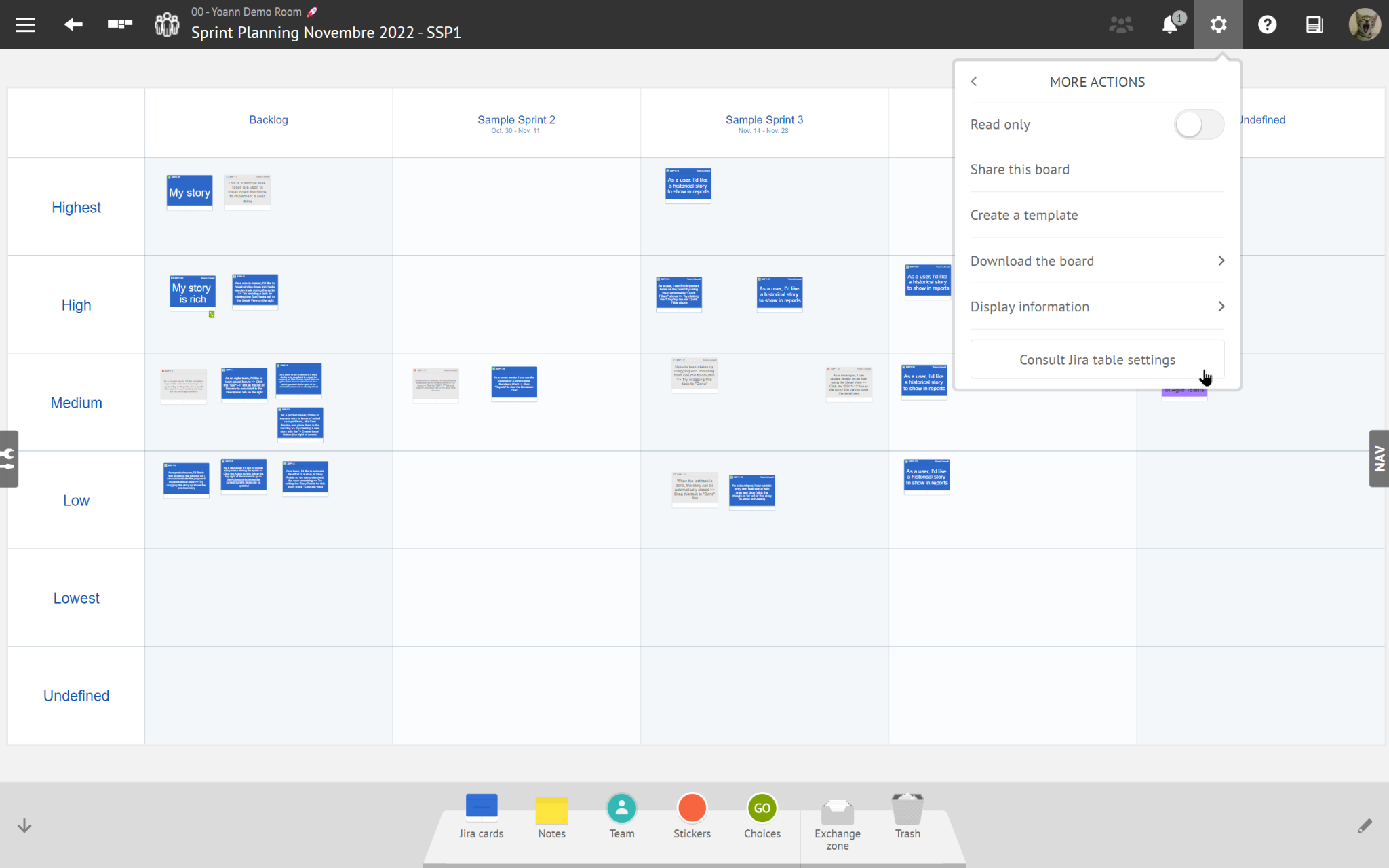 Shared room templates across platform domains
As you scale your Lean-Agile practices in your organization, you may want to standardize the Visual Management practices in order to accelerate your transformation journey. This can easily be achieved with iObeya by leveraging the use of the room templates.
However, so far, room templates were limited to a particular domain, making it difficult to reuse them across multiple entities or departments when getting started with new rooms across different platform domains.
With iObeya 4.13, we've added the capability for platform administrators to share a template across domains to create new rooms from a template within any domain available on the platform.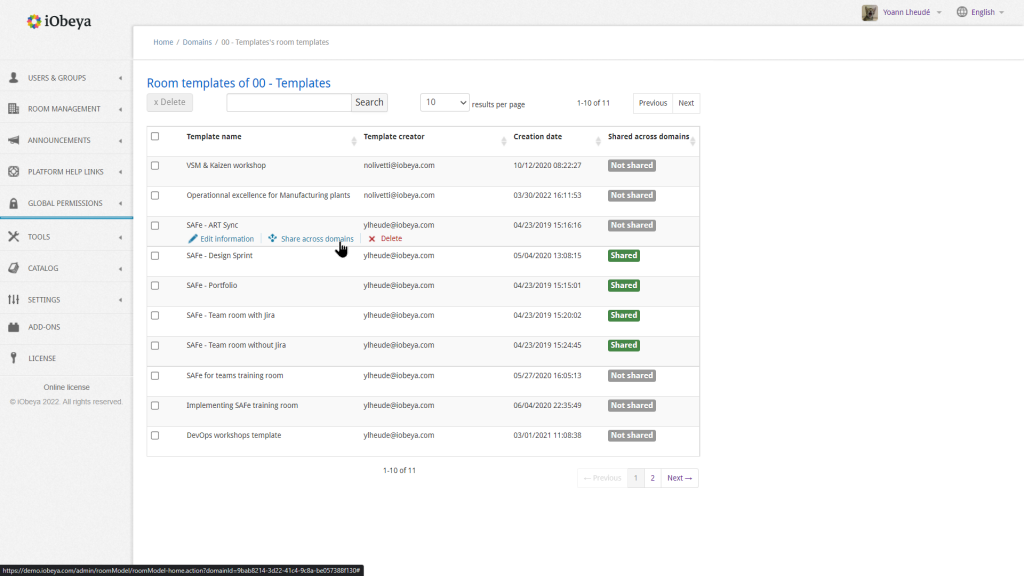 In order to share a template, the platform administrator would need to go to the domain's settings, click on the list of rooms templates from that domain, and from the list of templates, highlight the template to be shared, and click on "Share across domains". The corresponding room template then becomes available at room creation under "Platform" templates, in addition to the "Domain" templates.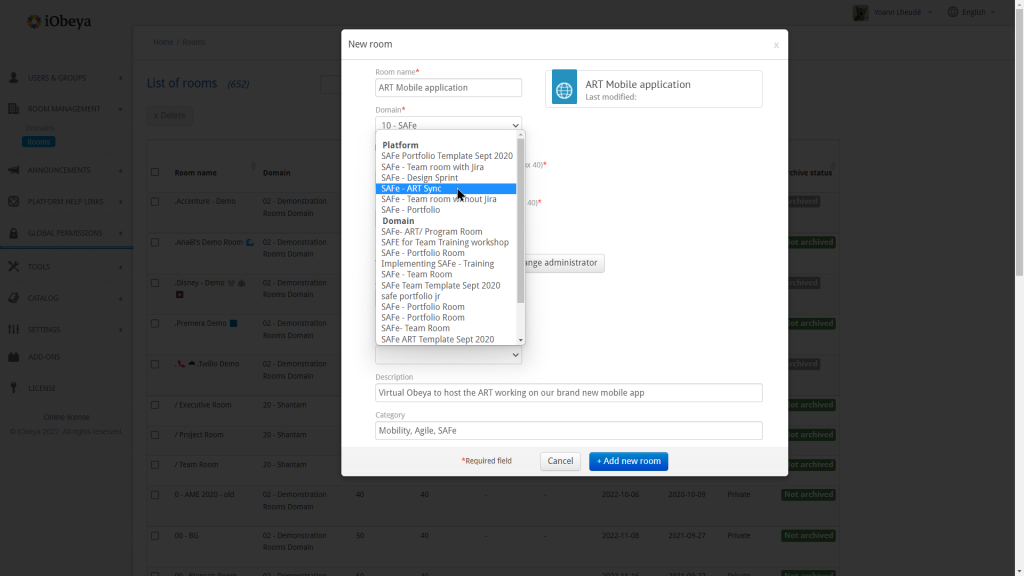 New section available on the Resource Center
For those of you that need to integrate iObeya with other systems, we published a new section dedicated to integration topics on the Resource Center.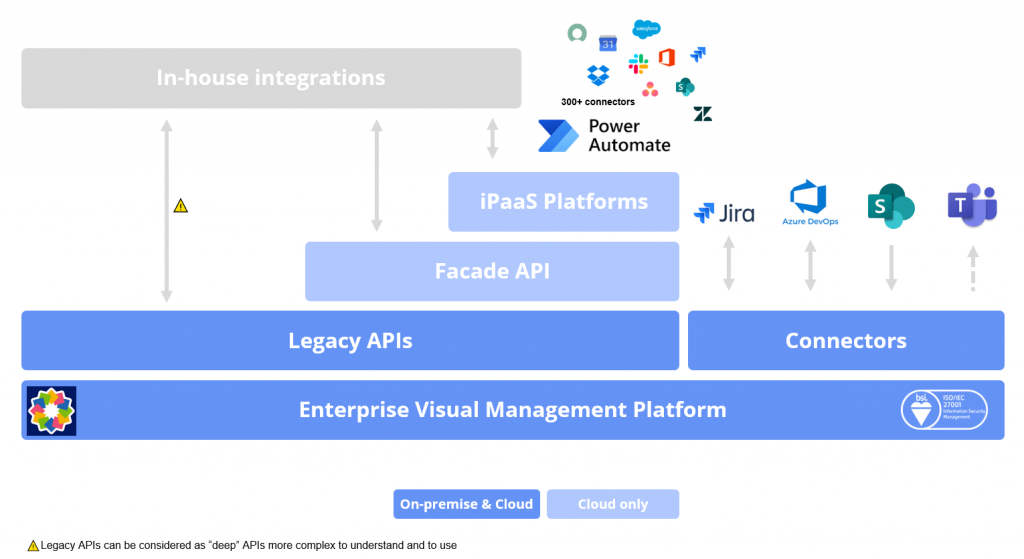 This section is accessible from the footer and will give you access to :
an overview of the integrations capabilities of the iObeya platform
the resources to quickly start with the iObeya connector available on the Power Automate platform
the technical documentation and several articles to learn how to use our APIs
We also have created a dedicated email address
integrations-support@iobeya.com
so that we can talk about your integration projects and answer your questions.
To learn more about what changed in iObeya 4.13, read the detailed
Release notes
to get the full list of changes and bug fixes included in this new version.