Hey, let's start your
iObeya journey!
TLDR
Take your time recruiting participants and scheduling. A sprint is not the only way to execute a Design Thinking Process.
A business opportunity starts with people's problems. These should be kept top of mind throughout the process.
Design Thinking is often required for innovation during Innovation and Planning (1) phase, but the timeframe is quite short (2 weeks regarding SAFe®). Design Thinking is not only an innovation tool, but also a powerful solution to quickly broaden business opportunities for innovation teams. The agile process is ruled by the Discovery and the Delivery phase, a cycle where iteration makes the product grow (I recommend reading 4 D — Product Management Framework to dive deeper into the 4 D framework). The Discovery phase, which is driven by the UX and PM, can include the Design Thinking process as a tool for exploration and assumption validation.
More than a process, Design Thinking is a mindset, ruled by divergent and convergent thinking.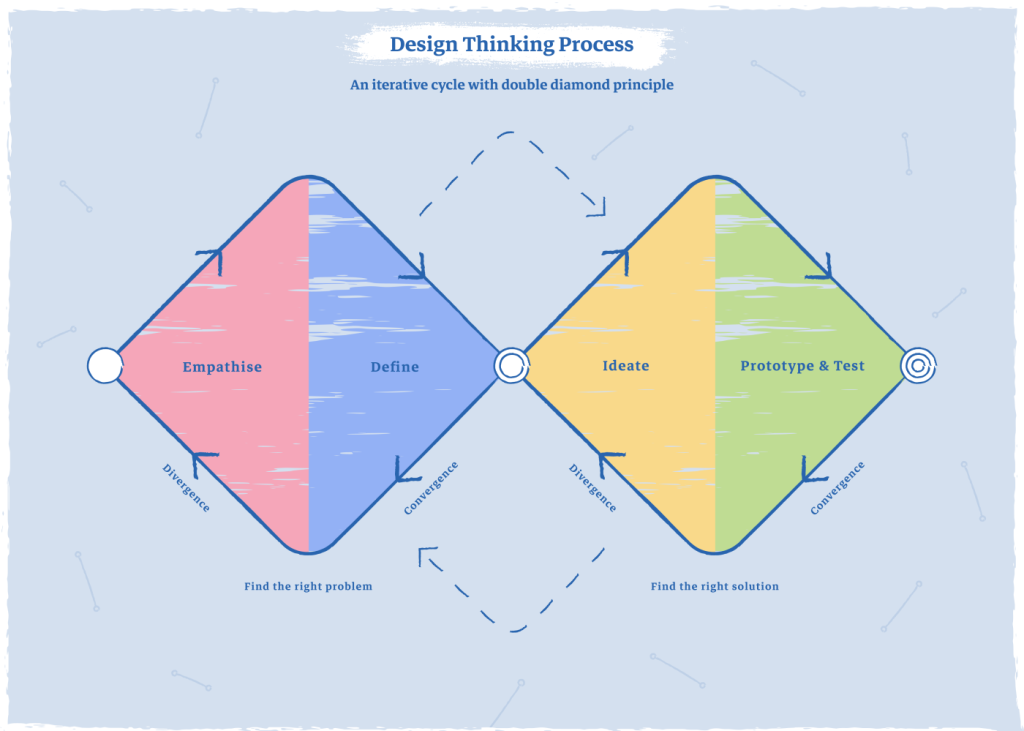 The Double Diamond is a design process model, published and popularized by the British Design Council. Its purpose consists of exploring an issue widely, then focusing on actions. This article gives more details: The Double Diamond.
A mindset to empathize with the user's experience. A mindset to include more stakeholders around the table.
This article is the first one of a series about design and Agile thinking.
Setting up your team for Agile problem solving
Organizing and recruiting, the longer the better
Gathering the innovation team is the big challenge. How many people? Where should I recruit them? Internally? Externally? The organization may be a big ball of yarn. First, a multidisciplinary approach is encouraged, by mixing technicians, illustrators, designers, business owners, etc. Those people can be recruited internally with more or less ease (it depends on your organization): designers can build prototypes, technicians can explore technical issues, illustrators can produce visual art, business owners can bring goals and customer voices. A team composed of a designer, a technician, a business owner and an illustrator is a minimal requirement to run the next steps smoothly.
To turn your team into a "super-team", let's start to take a deeper look at the most concerned people: the people you want to solve the problem and his circle. They are part of the external participants, the most difficult part of the recruiting but the better to validate our assumptions. For example, in the case of making diabetes easier to manage, the team will be stronger if a diabetic is part of the adventure. Even greater if his practitioners, or a member of his family are part of the team: they will bring their experience and expectations, they will test the solution and may validate it.
It is taking longer to get this "super-team" up and running but the risk of delivering the wrong solution is lower.
5 days? 5 hours? Whatever…
According to the Design sprint (2) framework, a prototype can be tested within a 5 day workshop. 5 days to build and test a prototype sounds like the best recipe, nevertheless, it is not as simple as it looks. One criterion of success is to keep the participants engaged throughout the process, maintaining group morale. And yet, one or two could be distracted by other "priority projects".
While a 5 day workshop is one way to execute the workshop, there are others. It depends on your organization, your stakeholders' agenda, and more. It can be one quick 5 hours workshop or slower paced with 5 one hour sessions over a week. Whichever you choose, maintain your participants' attention and distribute work milestones according to people's agenda and team dynamics.
Set a creative mindset among the team
Whether you are working in a fully agile environment or not, the challenge in Design Thinking is to have a diverse team collaborate in the process of diverging and converging. Diversity is key for innovation, and this is no exception in Design Thinking. However, as seen before, team participants may have other priority projects on their mind, may not be fully comfortable speaking up, or may not have creativity come naturally. The risk in this case is to close the creative mindset and remain in a fixed mindset. With all the limitations that come with it, especially in a Design Thinking approach. 
The solution is to use icebreakers. We all know them, and you may think it's obvious or or just silly, but icebreakers come in a wide variety of types with different goals.They can be genuine boosters for group facilitation and overall results. 
From experiences that we have had ourselves, but also from information in leading whitepapers, we've noted that a new diverse team needs to create team confidence, then trust, and finally the willingness to challenge each other's ideas to take them one step further. In our workshops at iObeya we have used 5 different icebreakers specifically aimed at facilitating our expected outcome. To get the team members to get to know each other we used "Two truths and a lie" that brought surprising facts, created bonding, and tore down possible classical judgements on one another. To trigger out of the box thinking, we choose to use the "infinite 8" and the 30 circles. As we often see with creativity icebreakers, the first ideas were rather "common" but the participants got inspired and started to come up with better ideas and were fully energized to continue with the storyboard and design studio with new and original ideas.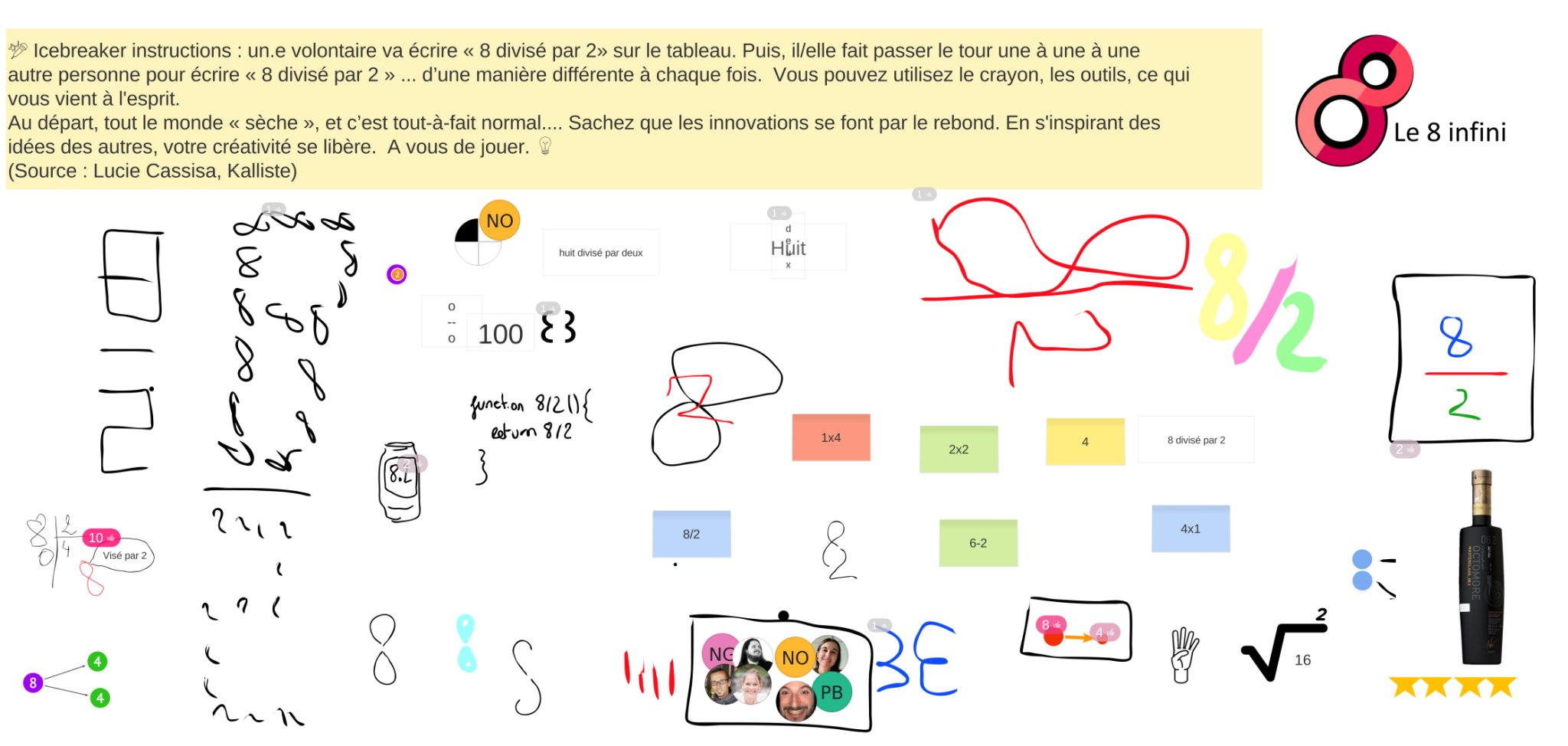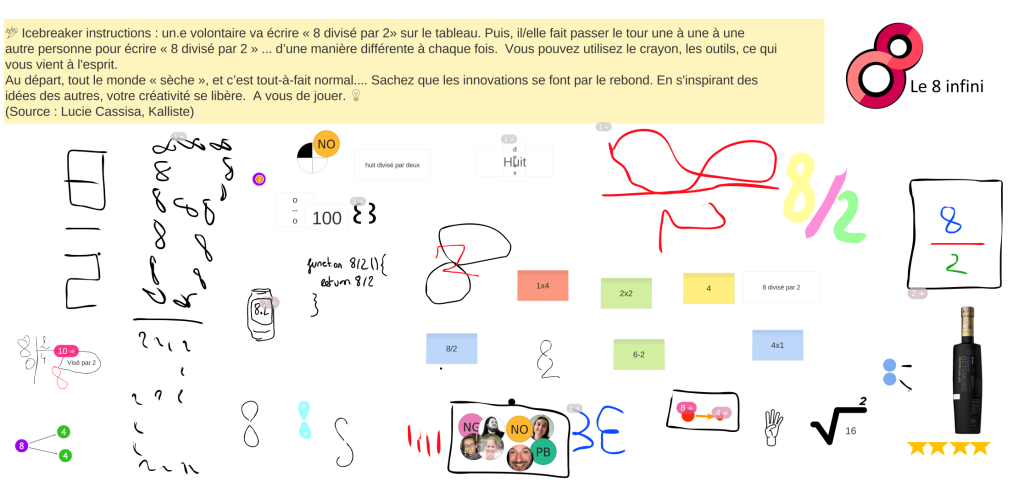 We would like to state that the icebreakers has helped the team throughout the process of Design Thinking to build trust and maintain confidence without fear of judgment; create an environment with room for more reserved members to speak up, and come with ideas that we more out of the box, studied seriously and developed in a growth mindset. And, in addition, it's good to feel that team members are happy to gather together for a workshop in their busy agenda.
Knowing your people and finding their main problem
Your users' interactions matter (a lot)
Your users matter because the purpose of the Design Thinking process consists of solving their problem, but the users' interactions with others like their stakeholders matter also. Indeed, a big picture of their experience will help you to identify the main pains. And those pain points may be located between your users and stakeholders. For example, a person with diabetes interacts with a lot of practitioners. Helping this person may consist of focusing on his diabetologist, their pharmacist or insurance because they may be part of their problem. With this, the focus may change by understanding those surrounding people.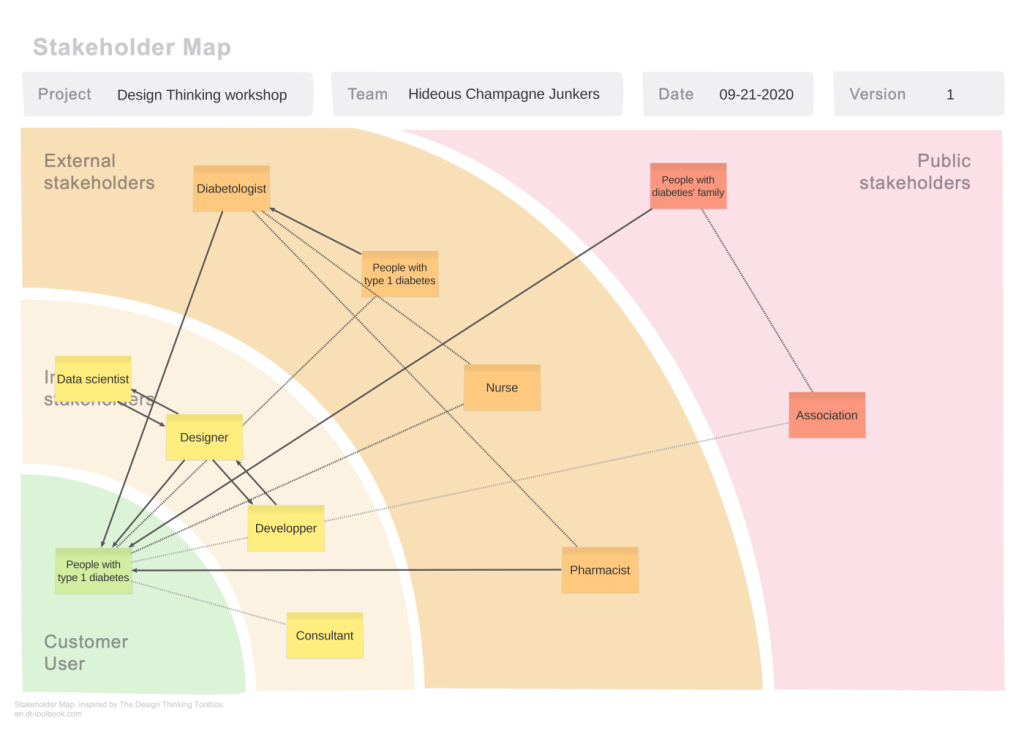 In this Stakeholder Map, the medical flow for a person with diabetes is complex. Practitioners, associations, and family are part of his patient experience-get a consultation from a diabetologist, get support from a patients association, get money for having a treatment and more. The more relations there are, the more complex the situation will be.
Your users would follow you at each step
Each time you are doing an activity with participants, keep every persona, stakeholder and their interactions in mind. The activities are a source of inspiration, they drive the group's decisions and they clearly aid in developing empathy with the Persona. Empathy is a state of mind that puts you in your user's shoes. Your decisions will be influenced by this state and for good reason.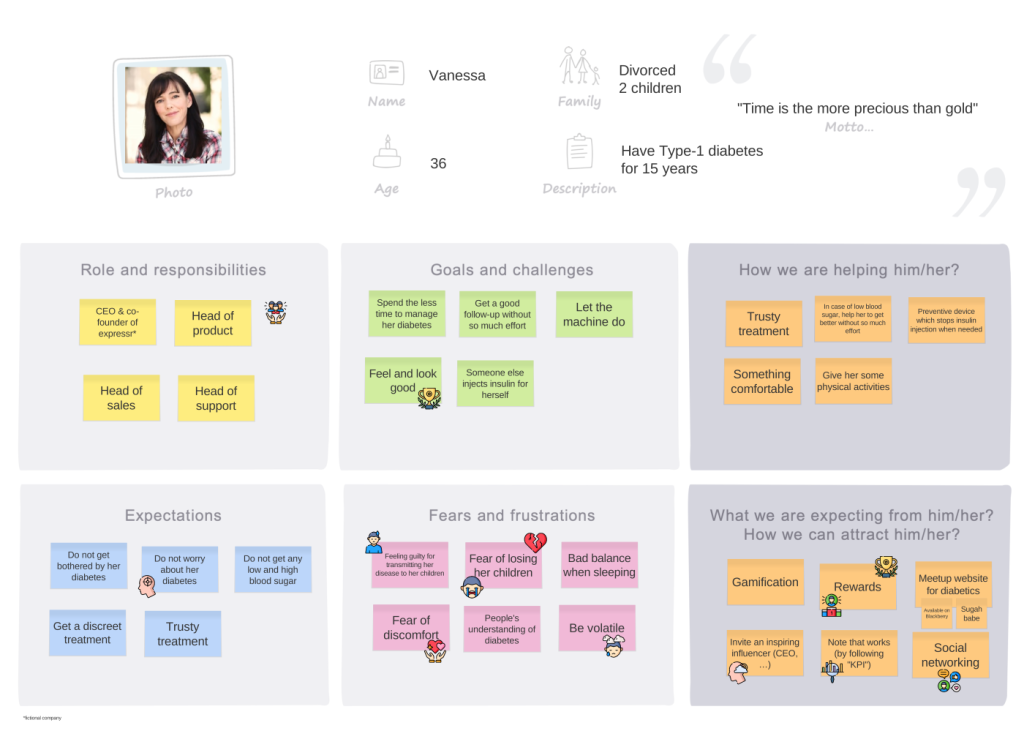 In this Persona, Vanessa is the patient we are focusing on. She cannot manage both her diabetes and her company. Her profile will be a driver during each Design Thinking activity because we identify with her pains, her needs and her situation, thus creating a more empathic relation with Vanessa.
A lot of problems, but only one really matters
Of course, your users' experience is full of pain points and friction. The perfect experience cannot exist because each experience is different. Nevertheless, our mission is to improve the most painful points. Those points need to be prioritized by the participants by doing a silent dot voting session.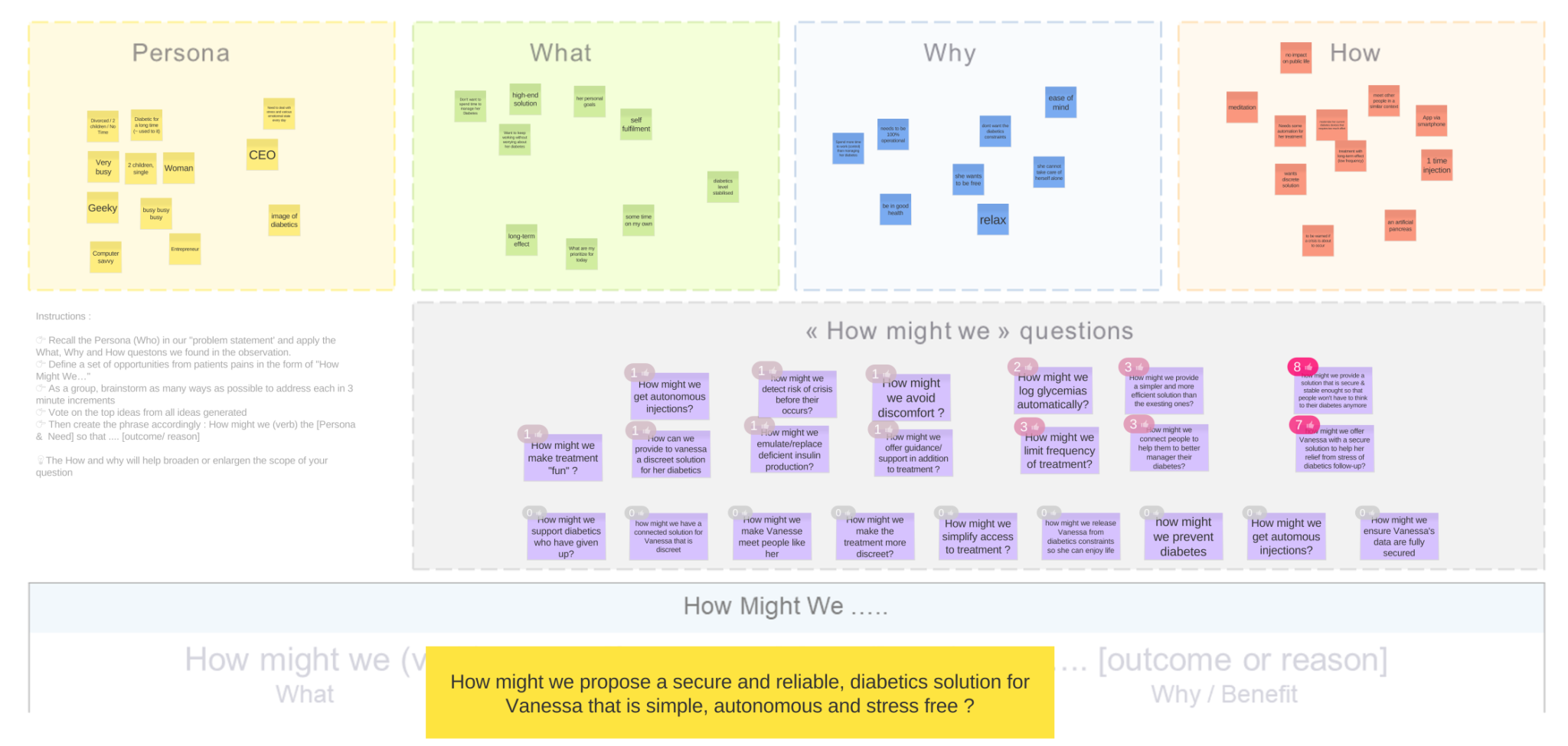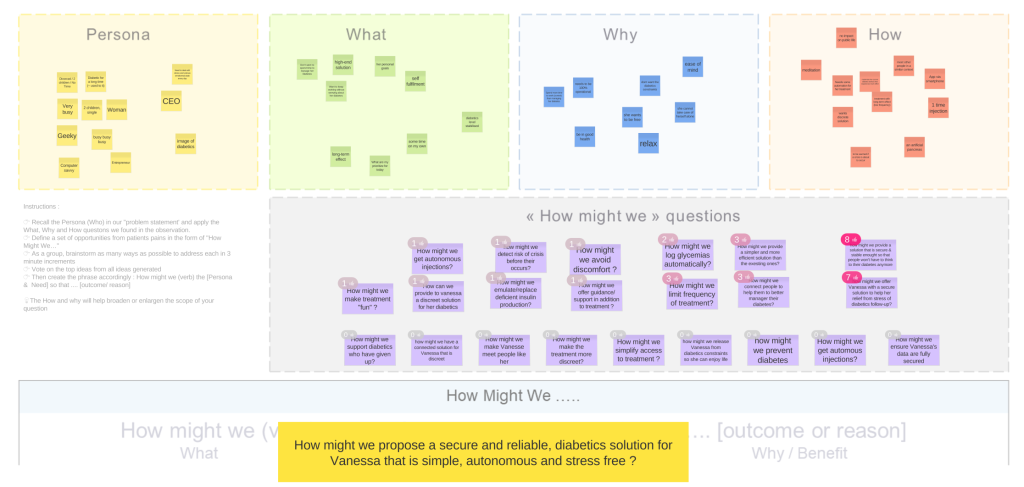 In this How Might We, the Vanessa persona helps to find an opportunity. From her known problems, some opportunities, in the form of "How Might We" questions, will help to reframe the problem in order to develop solutions later. There are a lot of opportunities, and a voting session may help to choose the most important one. After prioritizing one How Might We, the team will be focused on resolving the question. 
Your participants may want to take as many opportunities as possible. Nevertheless, they must stay focused on a few opportunities because doing so creates constraints, which makes people more creative and less dispersed. The next article will be focused on the next diamond (cf. the double diamonds process): how to create several solutions, how to find and validate the right one, and then engage Agile thinking.
Get in touch with iObeya if this is something you would like to explore and implement in your enterprise.
I recommend iObeya as a remote workshop tool. During the COVID-19 situation, doing workshops with participants in the same war room is not encouraged. As an organizer, the challenge is to facilitate the process by using software solutions to digit his Design Thinking activities.
A previous article tells more on facilitating remote sessions by using iObeya: Une retrospective à distance ?
For our icebreakers we found interesting inspiration from Lucie Cassisa from Kalliste. For more information regarding her work: Animation d'ateliers collaboratifs (FR)
Facilitating icebreakers requires a mindset to encourage out of the box thinking and leaving none on the side path. We use collaborative intelligence methods to achieve this. For more information:
Defining the problem requires simple and accessible activities:
The Innovation and Planning has been designed by SAFe®, the Scaled Agile Framework®. Two weeks before the PI Planning, every team is focused on solving a problem, exploring technology, and building a proof of concept… Find more details in this article: Innovation and Planning Iteration.
The Design Sprint is a Design Thinking framework, created and popularized by Jake Knapp, when he worked at Google Ventures. His methodology consists of following the Double Diamond process in 5 days. Here are some resources from his book Sprint, to start a design sprint.