What's new in iObeya 4.12?
Disclaimer 📢
The version 4.12 is a Cloud version. Therefore, the improvements and new features described below are only available for Cloud customers yet. Of course, they will be available in the next certified version of iObeya for on-premise installations scheduled for Q4 2022.
Stay tuned!
QCD add-on (Enterprise plan)
Reminder ☝
This is an add-on that need to be installed and activated on your iObeya platform. If you can't find it, you need to request to your platform administrator to install this add-on.
A new filter for Actions not assigned to a letter
In iObeya 4.10, we gave you the option to create action cards not assigned to a letter. Now, to keep on improving on this functionality, we have also created a new filter in action plans which empowers you to filter these actions not assigned to a letter, so that you can continue prioritizing and solving your problems more efficiently.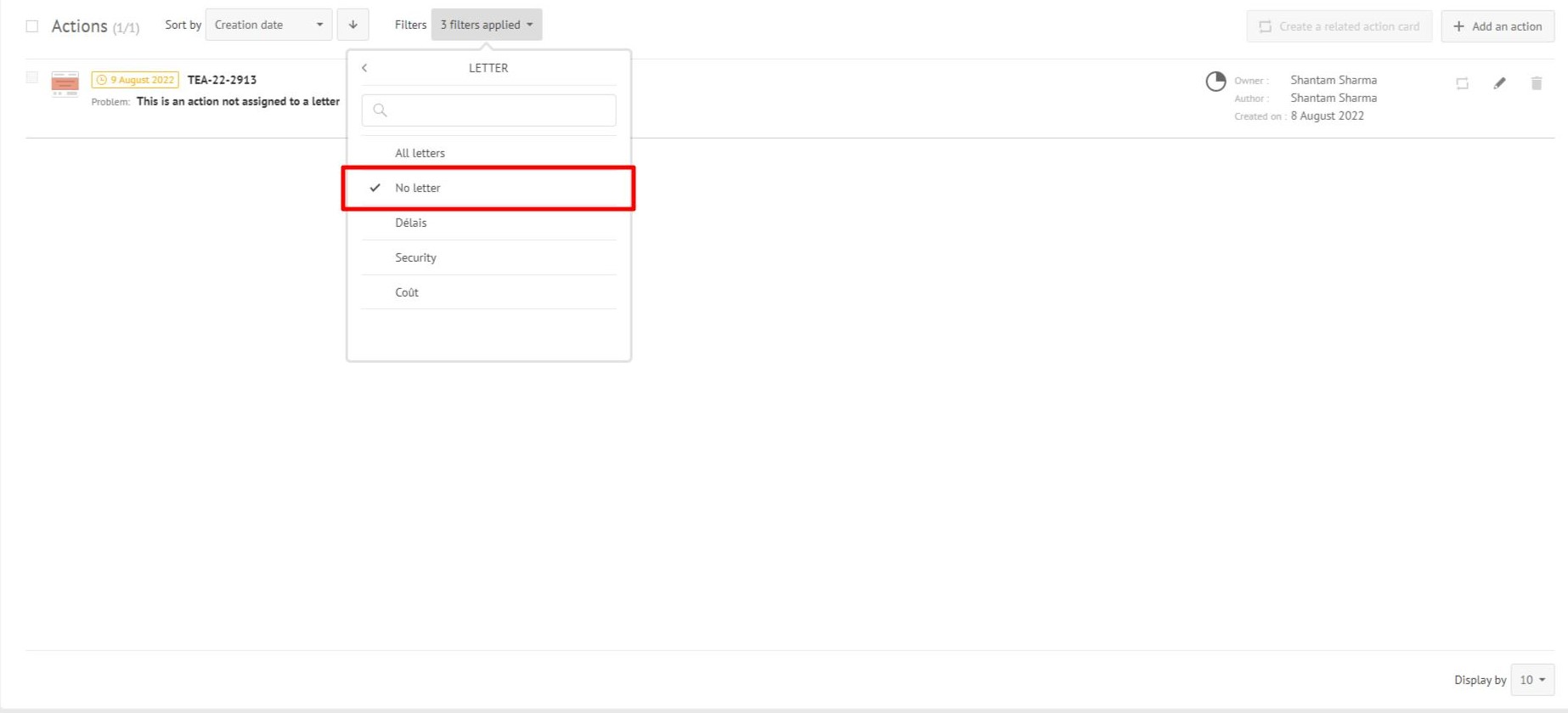 Responses to escalated actions in action tables mode 3 "All rooms"
Previously, when escalated actions were responded to by a higher level of your organization, they disappeared from the action table mode 3 "all rooms" in the source board/room: although the action was present on the board, it could only be accessed/seen on the source room's board action plans, which could be a cause for confusion for the user.
Well, we have decided to improve this behavior with this version! Now, when an escalated action has an answer, it will appear automatically in the action table set in mode 3 of the source board/room or the board/room from where the action was escalated.
So, no more confusion or searching for this action! All you have to do is open the action card through your action table mode 3, read the response, and if you find that the response solves your problem, close the action!
You will also notice that the action does not disappear from the action table of the escalated room. This is intentional, this action will only disappear when the action has been closed in the source board/room! Why? Well, because this will empower the user who escalated action, once this user has a response they will need to see the answer and by closing the action they will confirm that the solution to the problem was taken into account by them and that it has been implemented. It also gives the user at the higher level the visibility to see if the action was indeed implemented and thus will improve follow up of continuous improvement initiatives in your organisation.
This feature also effectively completes the problem-solving loop of the user creating a problem, escalating it if not able to solve it at their level, getting the response, and then validating the solution by closing it.
Supporting up to 9999 story points of capacity in Agile boards (Agile, AzureDevOps & Jira)
Story points are units used in Agile methodologies to estimate the workload required to fully complete a story, or any piece of work to deliver value.
As the possible use cases can vary from team to team or project to project, we have increased the number of story points supported in the Capacity field. Therefore, from now on, on Agile Team Board, Jira Sprint table, and Azure Sprint table, you will be able to input a Capacity value up to 9999.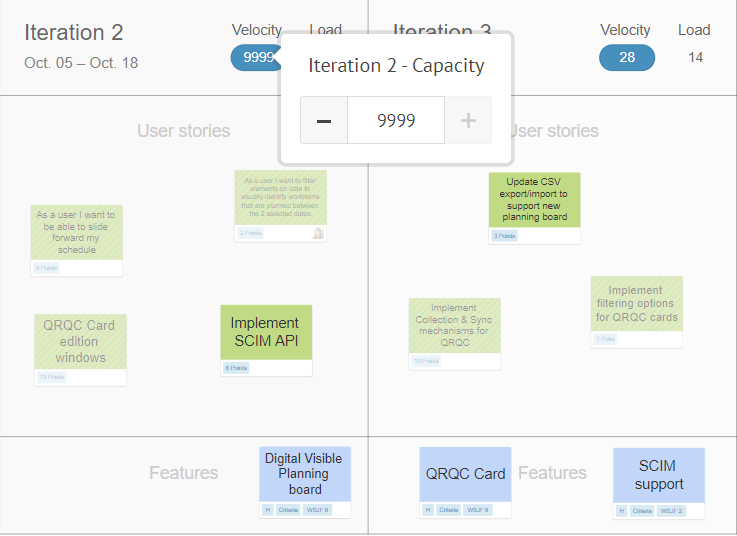 Better management of classification nodes: area and iteration paths
Area and iteration paths, also known as classification nodes, allow you to group your work items into different types of elements or time-related periods in order to classify and define a hierarchy of paths. Until now iObeya only retrieved the leaf of your area or iteration tree.
Based on recent feedback, we are happy to announce that in this new version, you will now be able to retrieve all the different levels of your classification nodes in iObeya.
Wherever you will have an Iteration Path or Area Path field, you will be able to retrieve all the classification nodes configured in Azure DevOps.
Moreover, to help you navigate complex project classification structures and easily find the right information, we have decided to improve the way of searching values. These new search criteria will help you easily and quickly find the values you are looking for.
To see more about the search criteria for Area and Iteration Paths, please check the documentation available here.
The Azure DevOps Kanban table
In version 4.6, we introduced the new Azure DevOps connector, which included the Azure Sprint Table which helps you plan your work within your sprints in a user-friendly interface.
We continue to strengthen the maturity of this connector by covering more and more use cases in iObeya, and by introducing a new table: the Azure Kanban table.
This Kanban board will allow you to connect your iObeya boards to your Azure DevOps flows of work. In fact, by moving your Azure cards from one column or row to another, iObeya will automatically change the corresponding values in Azure DevOps, and vice-versa. While setting your Kanban table, you will also be able to:
Select and reorder the steps of the workflow you want to display in your Kanban table
Display the swimlanes to visualize different categories of work as rows on the board
Display the Work-in-Progress (WIP) limits configured in Azure and, that way, visualize the WIP for each step of your workflow
With this new Kanban table connected to your Azure DevOps data, it has never been easier to quickly identify your bottlenecks and boost your productivity.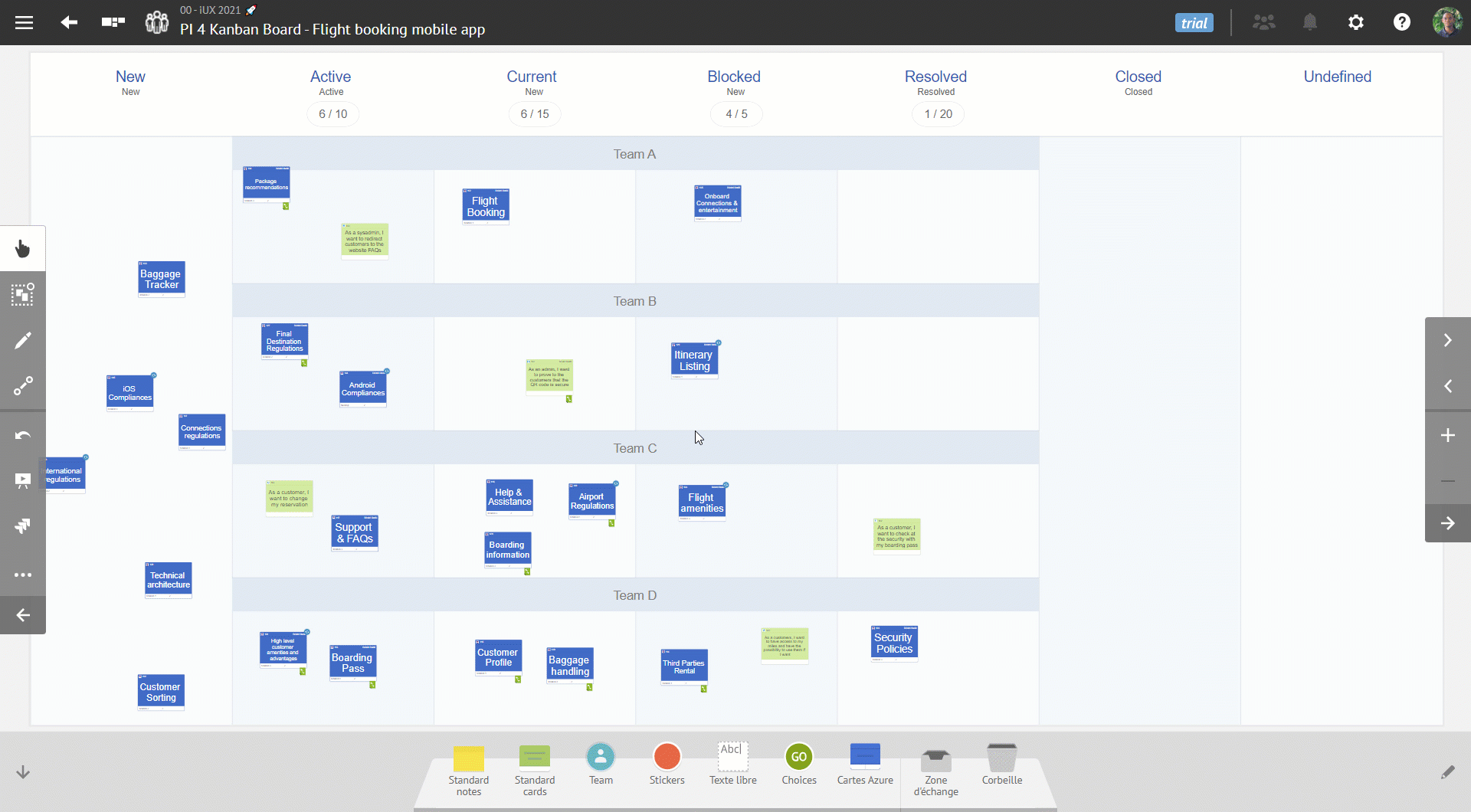 To learn more about what changed in iObeya 4.12, read the detailed
Release notes
to get the full list of changes and bug fixes included in this new version.