(Lean) Visual Management And How It's Changed During The Pandemic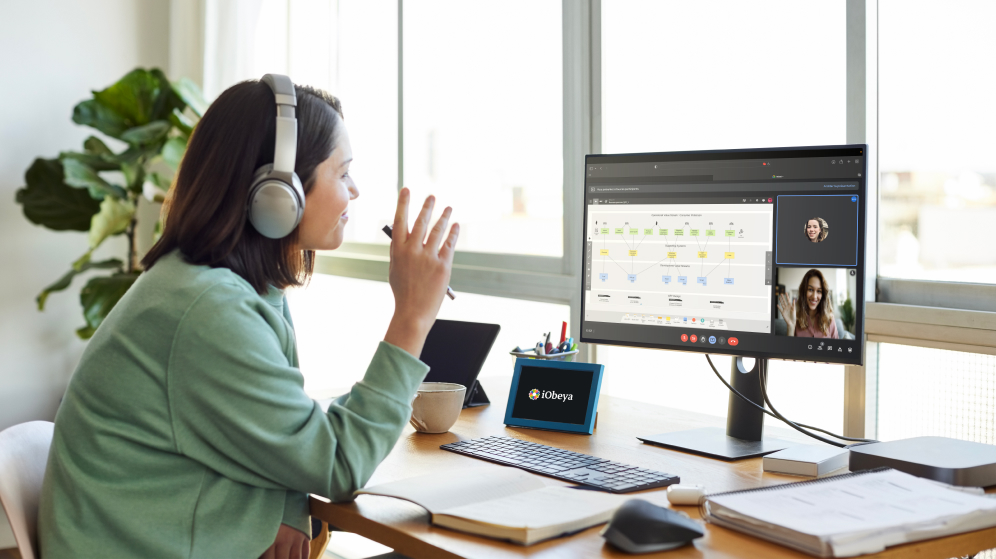 Hey, let's start your
iObeya journey!
If you've ever worked on a cross-team project, you've likely found yourself in this familiar situation: You outline a detailed series of activities and share all the documents with colleagues. Yet even with all this carefully articulated information, the project's workflows prove to be unclear for others — proof that more information doesn't necessarily lead to greater understanding; sometimes, we need to see it.
A research report commissioned by 3M Corp. found that visual aids improve learning by up to 400%, that we process visuals 60,000 times faster than text and that the average person only remembers about one-fifth of what they hear.
While visual communication is not new (think: cave drawings and smoke signals), it wasn't until the invention of the Gantt chart — a type of bar chart still widely used to illustrate a project schedule — that industry came around to the idea of using visual controls for production. Today, visual controls are all around us: traffic lights, signs and lane markers help drivers navigate the world, color-coded uniforms identify store workers, our phones blink with notifications and so on.
Visual management: Using visual controls to improve operational performance
Visual management is intended to convey vital information in such an intuitive visual way that it requires virtually no explanation in order to understand it. With good visual management, anyone in a workplace should be able to instantly see the current state and progress of work, navigate the area, track how their team is performing versus target, be aware of any issues and more. By creating instant visual cues, organizations can make information clear and actionable, thus improving productivity.
Toyota was the first company to take visual management into production in Japan in 1938, and its early philosophy of continuous improvement has since evolved into a global phenomenon known as "lean" management. It wouldn't be for another 40 years that Western business leaders would learn of the Toyota Production System and its highly effective "kanban," which is still used today to visually align production with demand in order to reduce waste.
With kanbans, tasks are represented visually to give workers a view of progress from start to finish, and new tasks enter a queue when bandwidth permits. With a visualized workflow, tasks can be prioritized efficiently, and issues can be resolved before a backlog grows too large. This is important in any industry since backlogs tie up investment and increase costs.
Toyota later invented the "ōbeya," or "big room," in the 1990s as it was bringing the Prius to market. As Lean Leadership Academy executive director Sam MacPherson told IndustryWeek, "obeyas provide dedicated space as well as time for coordination and problem-solving, and are designed to minimize organizational barriers."
"If you think of TPS [Toyota Production System] as being a nervous system, then 'obeya' is actually the brain of the system. It is where that information comes to be synthesized, and digested, and then analyzed, prioritized and decisions made about what we are going to do with this information," MacPherson explained. The report also noted that "visual management is a key, with obeya walls typically plastered with charts, tables, and other data or communications for team members to review and act upon. … The end result: quicker, more effective solutions."
Managers also rely on practices like "gemba walks." During a gemba (Japanese for "real place") walk, typically conducted daily or weekly, managers physically visit workers at their workstations to discuss how business operations can be conducted as efficiently as possible.
Covid-19 has forced visual management to digitize
When the pandemic struck, many organizations had to digitize physical operations — including visual management — since physical visual management became complicated with remote workers. This meant moving whiteboards, kanban boards, ōbeyas and Gantt charts to digital workspaces. Even gemba walks moved virtual. We're nearly a year in, and most organizations are still struggling to make this shift. Many more have yet to begin.
If an organization is at the beginning of its lean journey and has yet to transition to digital visual management, it should first identify how its products or services satisfy customer needs and how the organization fulfills them. Second, it should assess how it is currently using visual management in its physical spaces since building upon processes that already exist can create a solid foundation for transitioning to virtual/digital. To ease friction, consider developing a change management plan ahead of time that engages affected stakeholders.
Organizations must also determine how deeply integrated into their business it makes sense to go. For the casual user, for example, there are a wide variety of single "event" products that can get a group of people around a virtual whiteboard to facilitate a brainstorming session. Deeper process improvement requires a digital toolkit that includes templates for problem-solving such as an A3, fishbone diagrams and more. Companies that are ready to completely integrate should fully understand how their workforce interacts with data, how digitization will affect their jobs and how their IT infrastructure can adapt, and they should be committed at all leadership levels to engaging people in the transformational process.
Organizations can avoid stumbling blocks by establishing a clear vision of how they plan to use digital visual management — whether at the event, process or business level. A well-mapped and successfully implemented digital visual management program will be hindered if duplicate physical processes remain in place, such as action logs continuing to be kept in spreadsheets or meeting minutes staying siloed in documents or email. To be successful, leadership must make digital visual management the centerpiece of business communication and establish a regular cadence for reviewing the data that drives decision-making.
For many organizations — particularly those that have undergone a lean transformation in an increasingly distributed and digital working environment — it's beneficial to have this strong foundation in place for the future of the hybrid working environment. For those organizations that have not yet embraced lean, the question becomes: What's stopping you? Start a conversation with one of our experts at iObeya today.