What's new in iObeya 4.7?
Disclaimer 📢
The version 4.7 is a Cloud version. Therefore, the improvements and new features described below are only available for Cloud customers yet. Of course, they will be available in the next certified version of iObeya for on-premise installations scheduled for Q2 2022. Stay tuned!
Bigger boards available in iObeya
When it comes to Visual Management, Obeya rooms are a core element inherited from the Lean that emphasizes the importance of having visual boards organized in a structured way in meeting rooms.
Since day one, iObeya has been designed to digitize Obeya rooms while keeping all the benefits of Visual Management, and removing collaboration constraints and deployment limitations.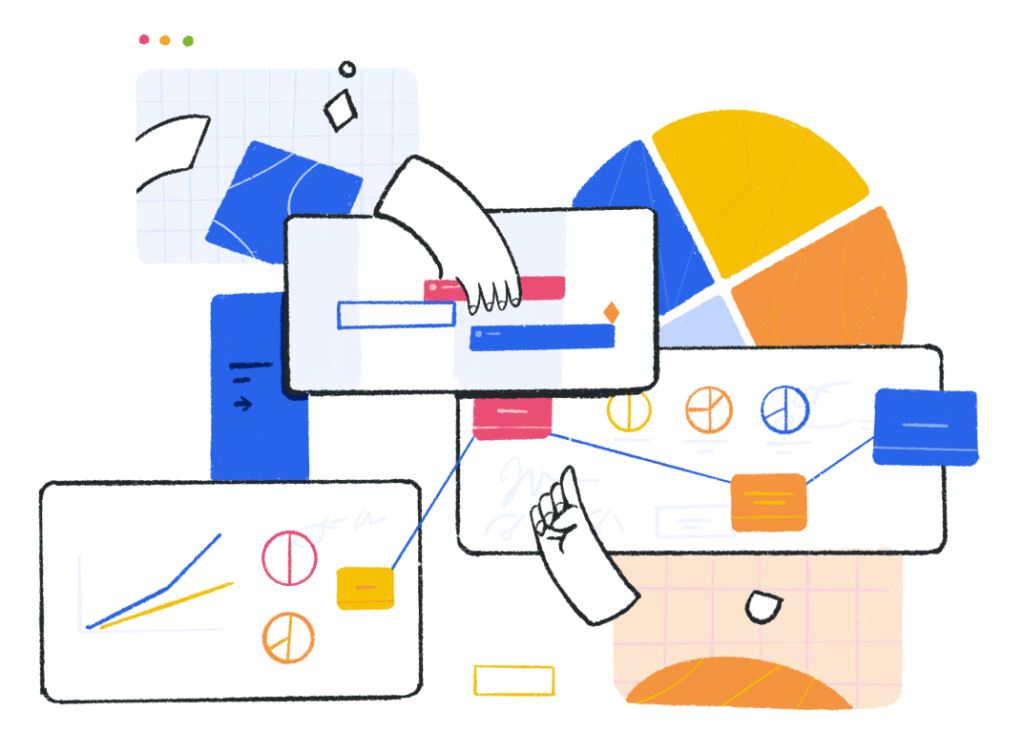 For the last ten years, your feedback confirmed that structured boards combined with virtual Obeya rooms are more powerful compared to infinite canvas:
It is easier to organize the information, avoiding people to get lost
It helps to focus participants during distributed meetings
It allows deploying Visual Management Systems to break down silos
It simplifies the switch from physical to digital with a common language
However, one of the most popular requests in our backlog was to provide bigger boards to better support some practices such as PI planning events, value stream mapping workshops, or project and portfolio management.
We are very happy to announce that iObeya 4.7 provides four new board sizes: 5A0, Double 3A0, Double 4A0, and Double 5A0.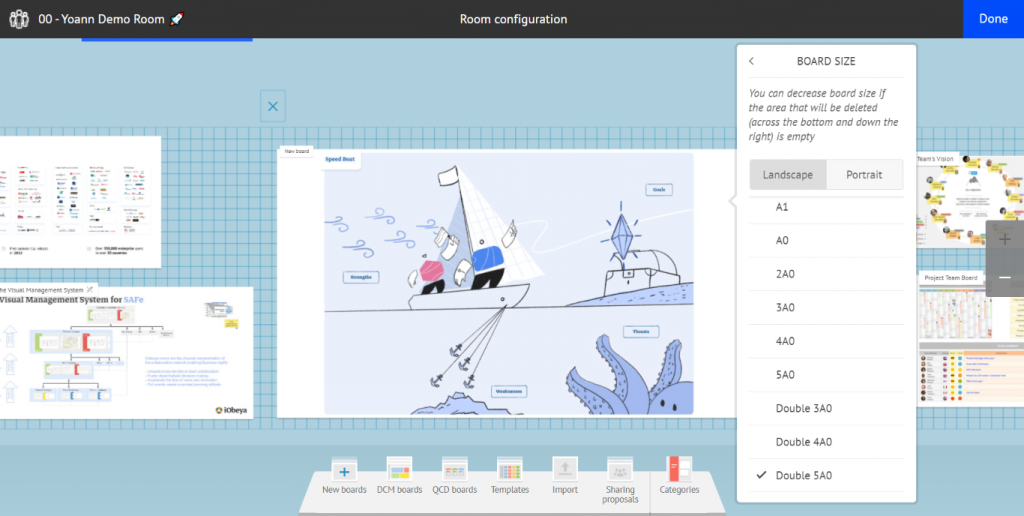 These new sizes are available for all types of boards in iObeya except QCD and DCM boards.
Standard iObeya whiteboards are now also available in new portrait format, allowing you to switch between portrait and landscape mode depending on your needs.
In addition, we've taken the opportunity to redesign the backgrounds of the generated boards to take into account the recommendation from the Web Content Accessibility Guidelines (WCAG) 2.0.
Last visited boards displayed on the home page
Looking for one of the last iObeya boards you worked on, or a board that one of your colleagues sent you to prepare for your next meeting?
You can now find the last visited boards directly on the home page, making it easier to quickly access any board you need to work on!
You can still click on the cross in the upper right-hand corner of the board picture to remove a board from this view.
Predefined order in the collection of cards
Until now, the order of the cards in a collection was defined based on the last modification date so that the last edited card was positioned on the top of the list. Therefore the order was continuously changing depending on which card was modified during a meeting.
The order is now based on the addition date of the cards to the collection. Therefore it is simple to browse and have access to a card as it will remain at the same position in the list.
The archived cards are grouped at the end of the list making it easier to focus on the open items and the priorities.
This logical order will help you to easily navigate between each layer of your Visual Management System.
Moving from idea to action
Have ever dreamed of converting your ideas into cards in a click? It is now possible with iObeya 4.7.
After a brainstorming, or a retrospective session, you will be able to convert your collected ideas and feedback as problems to be solved, or actionable items using any iObeya structured cards available on your platform: Standard card, Activity card, Problem-solving (QRQC), Feature, Story and QCD Action.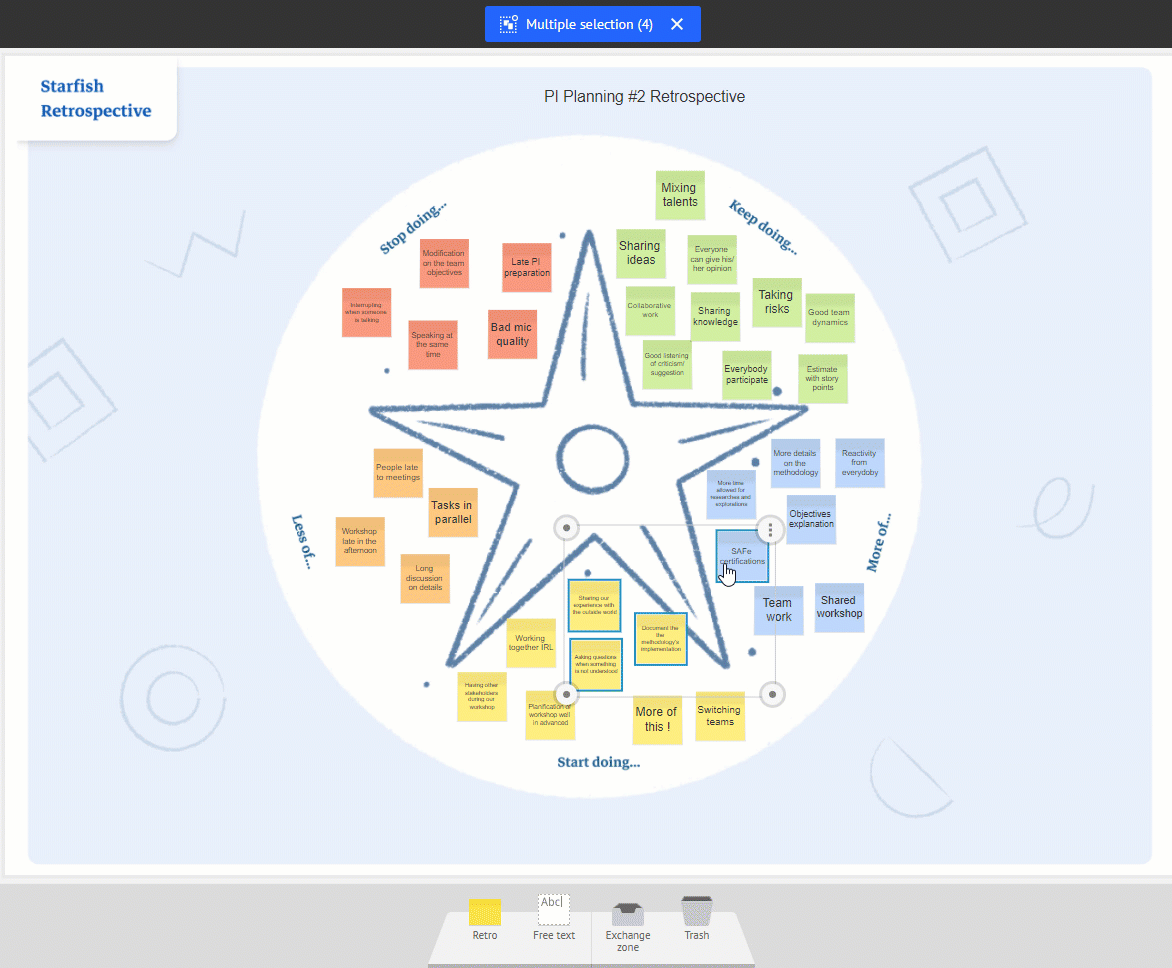 More than saving time, using this new functionality will enable continuous improvement and innovation in your team and boost your productivity.
New assign/send myself shortcuts on Project Management cards
The cards are designed to efficiently manage projects and tasks thanks to advanced fields such as the due date and user assignments. In this initiative, and to simplify the use of iObeya while enabling commitment from team members, we have decided to make it easier for users to assign or send a card to themselves in iObeya 4.7.
Now, on both standard and activity cards, no need to search for your name on the team members list, a shortcut is available in the card contextual menu when you edit card assignees, or when you send the card to another board.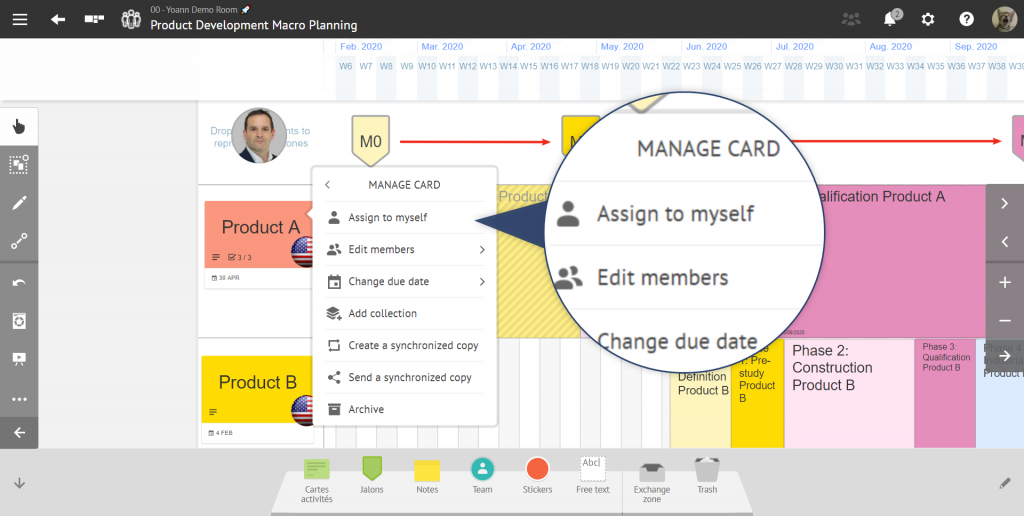 QCD add-on (Enterprise plan)
Disclaimer
📢
This is an add-on that need to be installed and activated on your iObeya platform. If you can't find it, you need to request to your platform administrator to install this
add-on.
Change period to visualize and edit in the "Input of Indicators" interface
The simplified edition interface available in the QCD utilities allows reporting performance for the current period with an operator-friendly interface optimized to be used on tablet devices.
With iObeya 4.7, it's possible to navigate between "boxes", so that operators can report about performance for the previous, the current, or the next period defined on custom cut-out letters.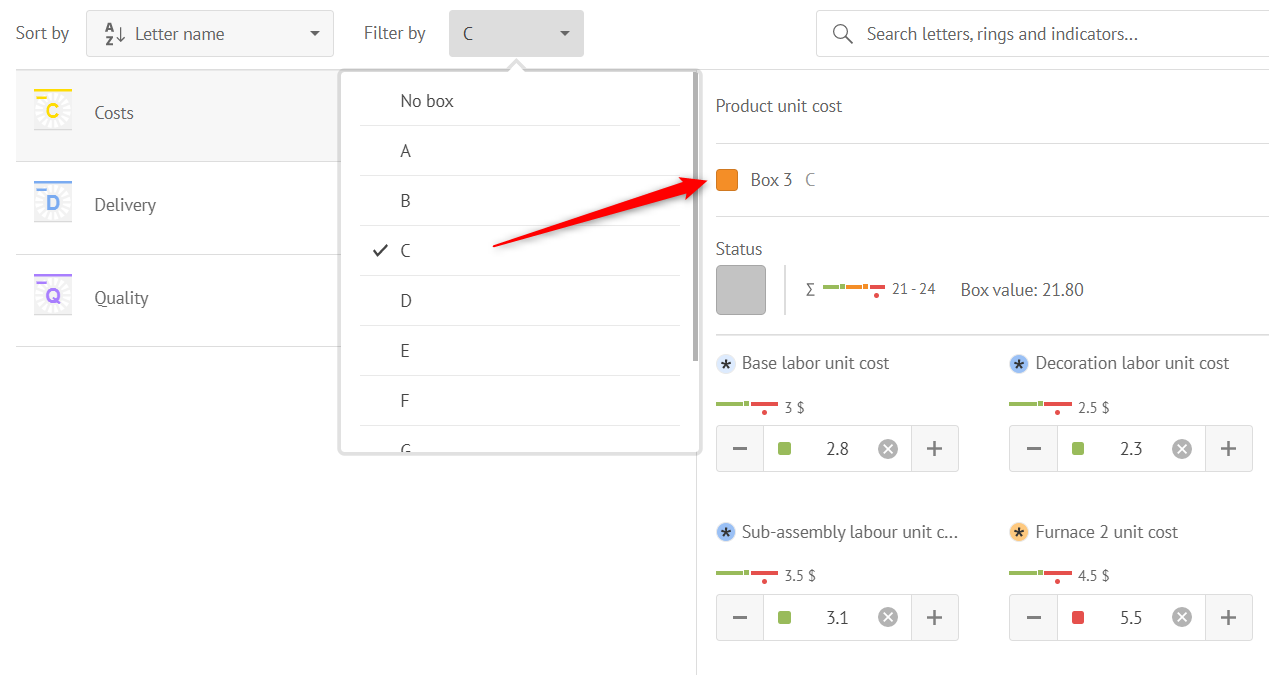 It will also be made available for time cut-out QCD letters with a future version of iObeya.
New global consolidation operators Min and Max
QCD provides you the ability to capture data and assess operational performance while enabling data consolidation to create a bird' eye view of the overall performance of your organization.
The consolidation capabilities are enriched with two new operators, Min and Max, allowing you to identify the highest and lowest values in your KPI tree.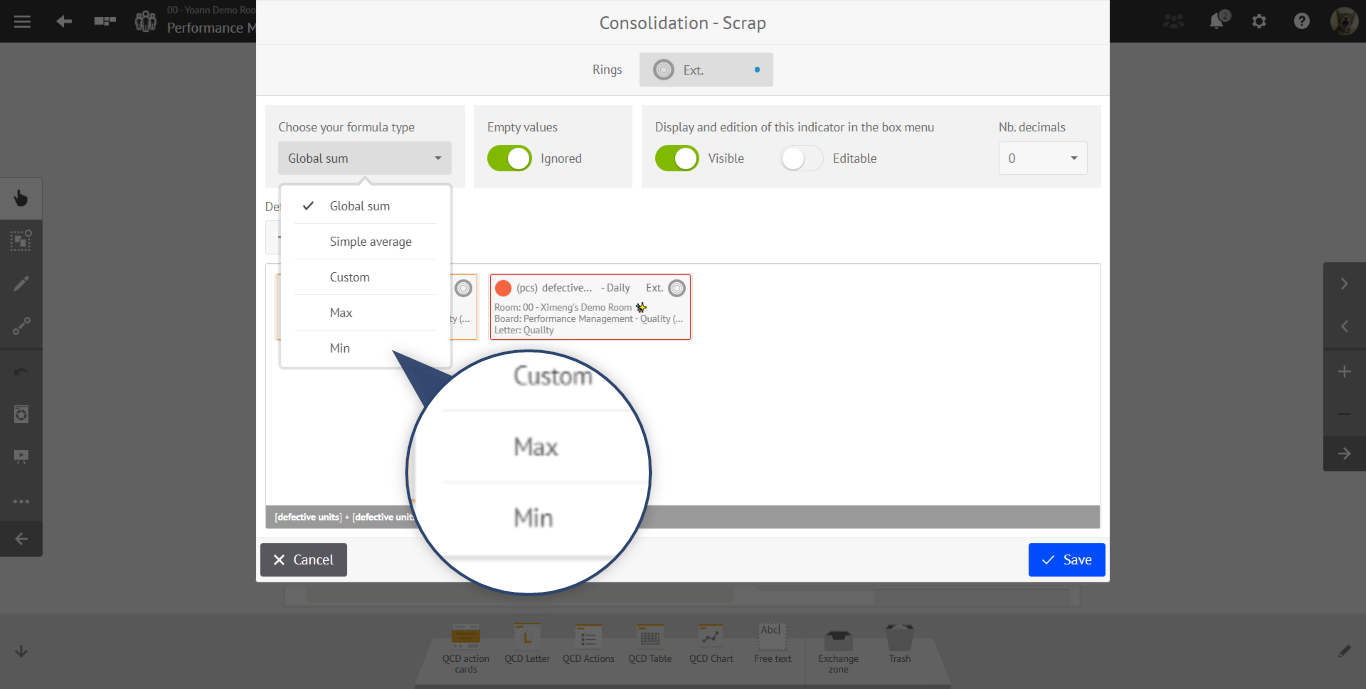 Increased number of escalation level that can be configured
Last but not least, you can now define up to 100 levels of escalation at the room level. It allows to implement information escalation and cascading process betweens layers or departments, even if you are deploying Visual Management in a large organization.
Jira connector (Enterprise plan)
Disclaimer
📢
This is an add-on that need to be installed and activated on your iObeya platform. If you can't find it, you need to request to your platform administrator to install
this connector.
The latest version of the Jira connector brings added value to one of the most important parts of project management: tasks and dependencies management between teams.
The two new features on this version are:
Ability to manage linked issues directly in iObeya
Support of epic link relationship
Ability to manage linked issues and dependencies in iObeya
We continue our integration journey with Jira by allowing project managers to visually manage related tasks in a more structured and friendly interface. Therefore, users will be able to create and edit dependencies between Jira issues directly in iObeya.
As we believe in the power of Visual Management, we have also improved the rendering of the links menu in the card editor and the card collection tab. The links are sorted by types of links in alphabetical order to improve the user experience and facilitate dependency management.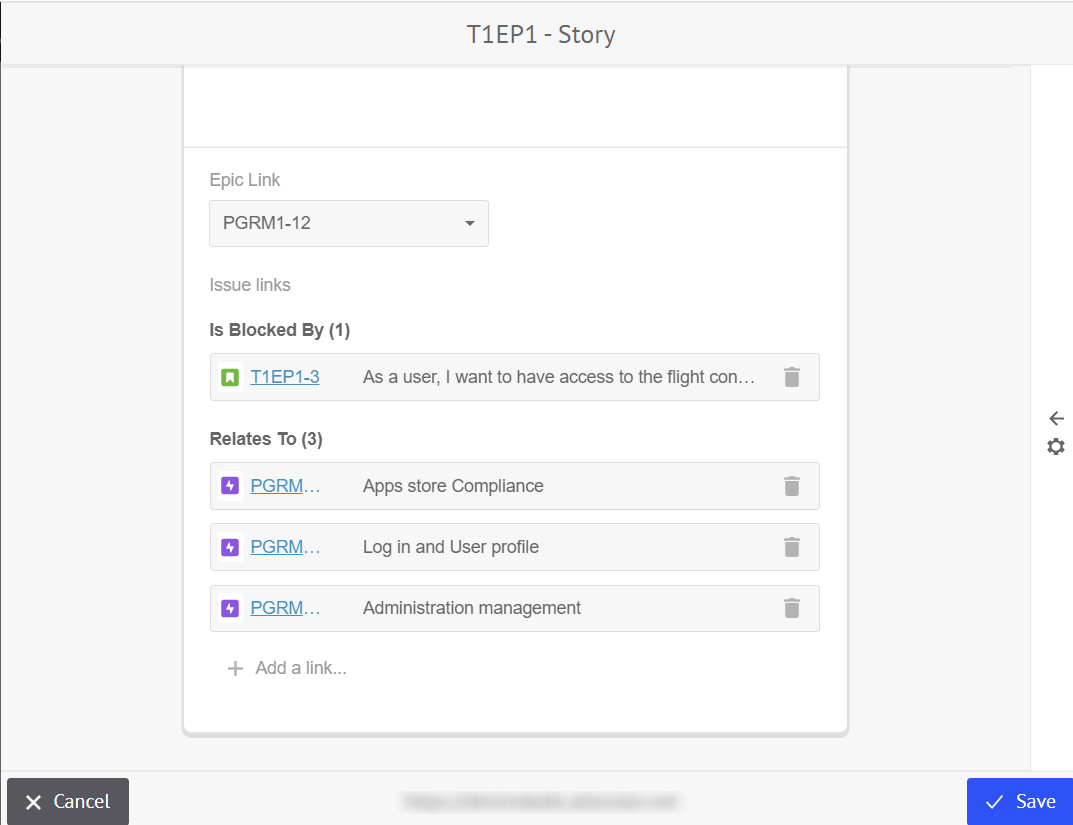 Support of epic link relationship
In Jira, Epic link is one of the most powerful features to manage large work packages that need to be broken down into smaller pieces of work, and that can span over several sprints and involve different teams.
iObeya users can now manage epic links in iObeya, thus reducing the need to juggle between iObeya and Jira, in order to increase efficiency during agile rituals such as PI planning and backlog refinement.
The new capabilities offered by the support of the Epic link field are:
The epic link field is now a default field on the Jira card, which means that users will always be able to see if an issue has a parent Epic.
Users can link existing Jira issues to an Epic directly from iObeya while editing them.
Users can create new Jira issues from iObeya and link them to existing Epics.
It has never been so easy to break down Epics into User Stories while keeping everyone aligned through your Visual Management System.
New information displayed in the administration interface
To help platform administrators to manage domains and rooms more efficiently, we made some changes among displayed information in the list of rooms and domains:
Domain and room archive dates have been added to easily identify the rooms to be renewed
Archive status has been highlighted in green for active rooms and in grey for archived ones.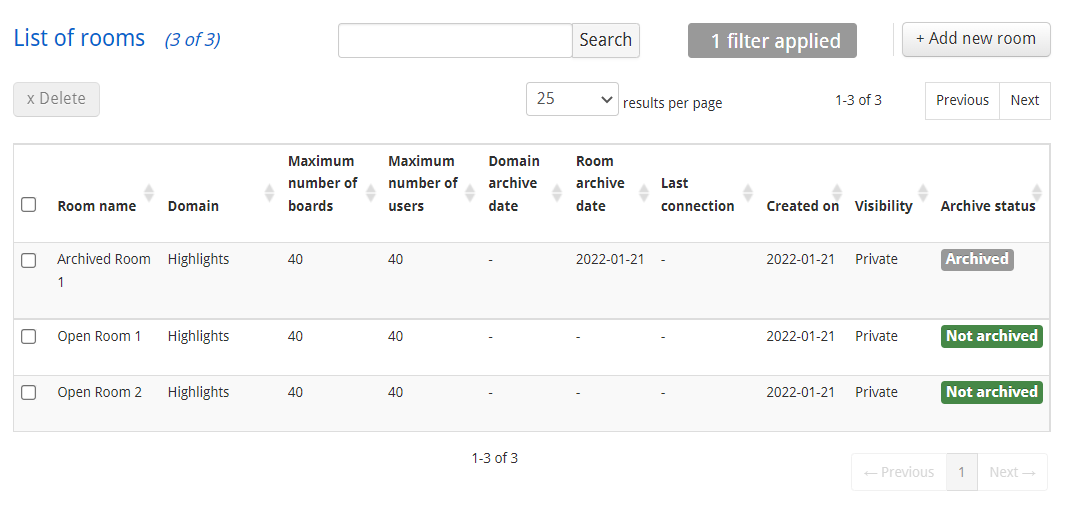 Personalize the content of iObeya email templates
The iObeya platform sends emails to the users on particular actions, such as room invitations or forgot password requests. The content of the email templates can be customized by platform administrators to better suit your governance and deployment context.
Until now, every time an iObeya platform was restarted after an upgrade, the email content was reset to the default template. Well, now with iObeya 4.7 the customized content is saved in the database so that it will not be reset during future maintenance operations.
In other words, if you've just upgraded to iObeya 4.7, you will have to modify one last time the default email templates we provide.
You will be able to navigate to the desired location in a click, allowing you to see the impact of a modification or a roadblock on another view.
To learn more about what changed in iObeya 4.7, read the detailed
Release notes
to get the full list of changes and bug fixes included in this new version.