Hey, let's start your
iObeya journey!
At the factory level, Industry 4.0 is a somewhat abstract concept, encompassing a series of technological components that can be classified into several "building blocks" such as robotics, cobotics, Internet of things (IoT), artificial intelligence, and more. These blocks can act independently or in harmony with others in an interconnected ensemble that we could call the Digital 4.0 Operating System.
This digital Operating System is materialized by a technological layer that transforms traditional Lean management systems already present in the company. A notable example of this transformation is Visual Management, a fundamental element of any Lean system. Traditionally practiced in paper format, with whiteboards for each team, it quickly reaches its limits when attempting to deploy it throughout the company: loss of information between hierarchical levels, data inconsistency, and desynchronization, significant effort required to display up-to-date data, and more.
Its digital version efficiently resolves all these issues and allows for "going to the next level" with a truly scalable system at the enterprise level and even beyond. In other words, we can say that digital enables Visual Management to fully play its role as the brain and nervous system of the organization.
The balance of business management in 4.0 operating systems
iObeya is the digital version of Visual Management, a fundamental component of any 4.0 operating system. Like the connectome of the brain that maps the network of neurons, iObeya is a network of digital rooms (Oobeyas). These Oobeyas enable teams to work according to Lean and Agile rituals, laying the foundation for a true 4.0 operating system.
With iObeya, decision-making becomes more efficient because the information is more precise, and decision-makers are at the right level of the organization. Just as in the human body, the cortex makes complex decisions through slow thinking, and fast decisions are reflexes. In other words, top management makes medium and long-term decisions, while the field handles short-term decisions. This distribution promotes the implementation of the 4.0 operational system in organizations.
An operating system must allow the efficient functioning of all company processes to serve customers better, whether in the medium to long term with top management or in the short term with operations.
Complex Decisions and Slow Thinking: Top Management's PDCA Cycles
For top management – except in crisis situations – it involves long-term steering in an environment characterized by complex decision-making that requires the integration of numerous variables. PDCA cycles that board committees go through are generally "slow" because they address significant scopes and extend over rather long timeframes.
From a cognitive perspective, this type of decision-making process calls for what we consider "slow thinking" ,often used in solving complex problems.
Fast Thinking: Operational Teams in Action
For operational teams, it's different: the closer we get to the flows serving the customer (external or internal), the narrower the planning and steering windows become. The horizon "approaches" to focus on the short term.
Front-line management tends to operate in "action-reaction" mode on a daily basis, relying on what we call "fast thinking", with inevitably shorter PDCA cycles. Slow thinking can also be used by field teams to solve recurring problems that affect daily operations.
To draw a general parallel with the human body: slow thinking is managed by the cortex (comparable to top management), while fast thinking, which manages reflexes, is directed by the cerebellum and other parts of the body (comparable to operational teams).
Which one is the more important? Top management or the field? Both, my captain!
If you push centralization to the extreme, with decision-making chains that are too long and clogged with details, your organization will become sclerotic, teams will become demotivated, and they won't be able to adapt to changes.

If you delegate too much, you lose the ability to steer the whole ship – you forget the "system thinking" cherished in Lean practices – and you can't maintain a course.
---
An operational system must therefore ensure a balanced distribution of decision-making capacity among different hierarchical levels: defining the strategy for top management, operational execution by the field.
The role of digital in all of this? To enable the company to smoothly – and thus effectively – follow a given trajectory.
Optimizing collaborative performance through the network of Obeya
Just as the neuron is the basic "working unit" of the brain, the room (or Obeya) is the fundamental element of the 4.0 operational system. iObeya acts like a connectome, creating a network of rooms that promotes collaboration.
The rooms are places of visual collaboration among individuals, which are interconnected:
Vertically, following the hierarchical link with ascending or descending information;
Horizontally, following value streams going up to internal or external customers;
Diagonally, for cross-team links and topics addressed in project mode.
Vertical connection often occurs in the context of strategy deployment processes (also known as Hoshin Kanri) but also daily following the "KPI tree" that goes up through managerial layers.
Horizontal connections present almost as many examples as there are business processes. The list is long. To cite common cases in an industrial environment, there are assembly processes that allow actors at all stages to visualize the progress of assembled products and regulate the flow. In office environments (support services such as IT, HR, Finance, Purchasing, etc.), it will take the form of visual management of work in progress to make intangible flows more tangible and "hidden" in emails, tracking files, management systems, workflows, etc.
Diagonal connection corresponds to functioning in project mode, which is the origin of iObeya when it helped product development teams at PSA Peugeot Citroën coordinate better in a multi-site and multi-disciplinary context.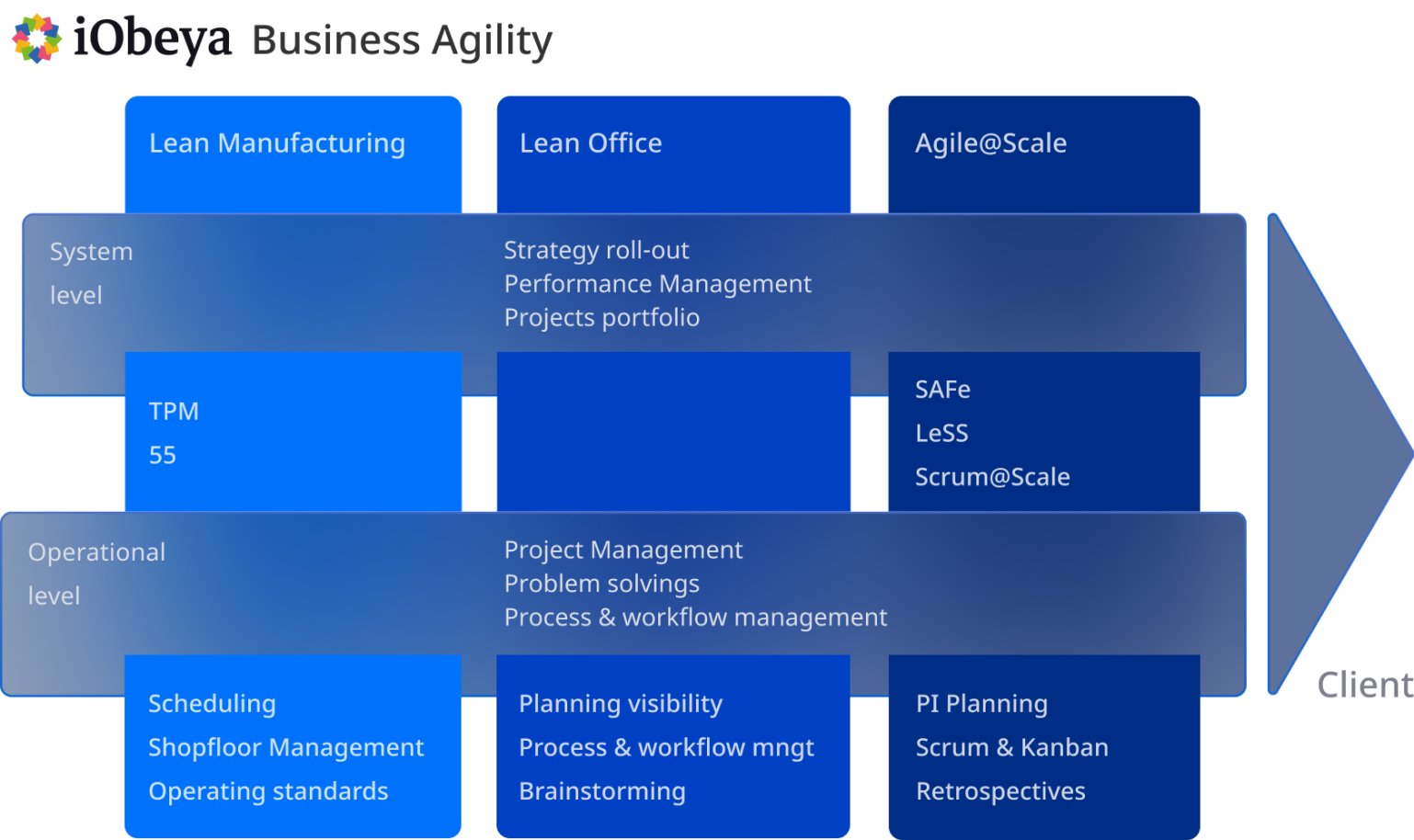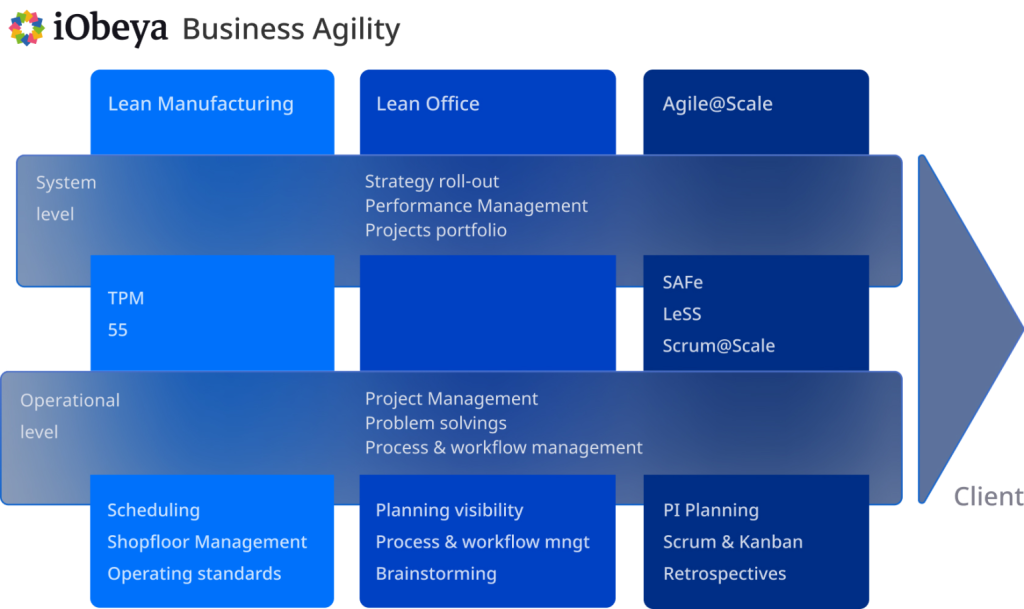 Whether at the macro/system level or the local/operational level, iObeya covers all Lean and Agile use cases to enable your organization to:
Precisely and quickly steer daily activities and trajectory changes,
Support team empowerment,
Break down silos to stay focused on the customer.
Hey, let's start your
iObeya journey!