Hey, let's start your
iObeya journey!
Chantiers de l'Atlantique, a French shipbuilder based in Saint-Nazaire, launched its "Smart Yard" plan in 2015 which aimed to reduce the cost of its boats by creating smart yards. This plan was designed in two phases. First: implement Lean management principles within the synchronized Chantiers de l'Atlantique teams and change working conditions to improve efficiency. Second: digitize these practices with the SaaS iObeya solution.
Their Lean transformation began in 2010. Tables, rituals and sticky notes became part of the habits of Chantiers de l'Atlantique's distributed teams. This cultural change has helped Chantiers de l'Atlantique gain in performance and competitiveness in a tense market. In 2015, the need for a digital transformation was identified and gave rise to two objectives:
improve the use of reference data (CAD, ERP…) in the teams' boards to save time and improve data quality
accelerate the deployment of the "Smart Yard" plan and the Group's digitalization strategy
The Lean Management digital transformation was fluid and accessible for all teams involved due to the intuitiveness of the iObeya solution. Teams were able to quickly adhere to the Digital Visual Management and Lean Manufacturing systems/practices thanks to an intuitive interface and the time saved with Lean rituals. Nowadays, 50% of Chantiers de l'Atlantique employees use iObeya on a daily basis.
Chantiers de l'Atlantique: a historic giant in naval construction
Established in Saint-Nazaire in 1862, Chantiers de l'Atlantique is a French fleet services and shipbuilding (liners, substations, etc.) company. It is also the largest shipyard in Europe and one of the largest in the world with a surface area of over 100 hectares.
In its history, the Chantiers de l'Atlantique group has built a large number of ships, including the famous liners Normandie, France, Queen Mary 2 and Harmony of the Seas, as well as the giant tanker Batillus. Four liners are currently under construction (MSC Virtuosa, Wonder of the Seas, Celebrity Beyond and MSC World Europa) in addition to a supply ship for the French Navy and two electrical substations.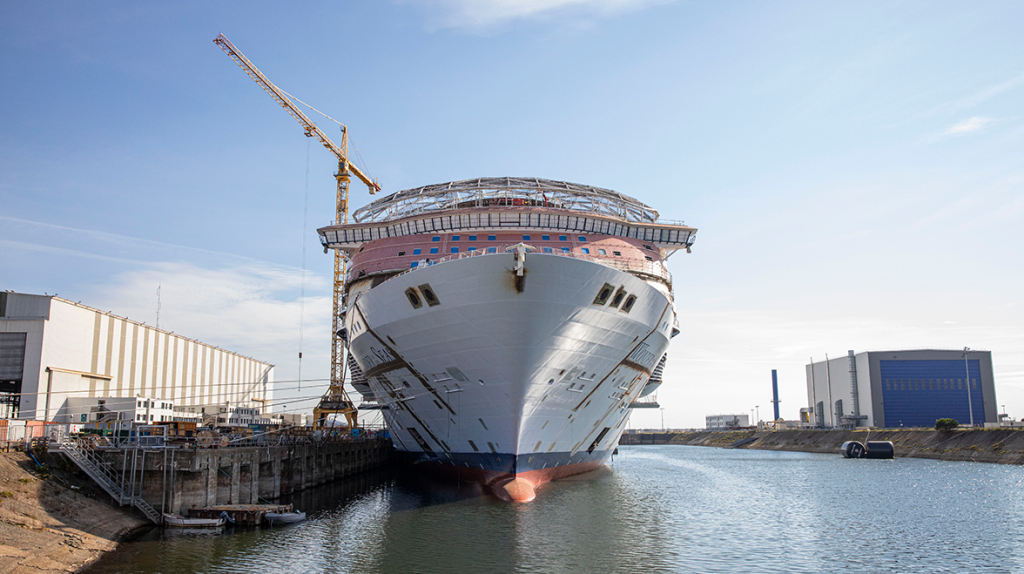 The implementation of Lean Management
Chantiers de l'Atlantique employs 3,300 people on site (design offices, support, production, etc.) working synchronously and simultaneously on massive construction sites interdependently. Managers have to pass on a lot of information between the different teams to avoid losing efficiency and productivity.
For the Chantiers de l'Atlantique, the synchronization of information between the design offices and the production teams is crucial. Each boat is unique therefore team synchronization is critical, especially when 2 or 3 ships are produced simultaneously and production times are very short (12 to 18 months).
This is why, in 2010, 5 years before the "Smart Yard" plan was started, the company launched a strategic progress plan which includes Lean transformation. This strategic progress plan has enabled the company to gain in performance and competitiveness in a market under pressure, thus paving the way for "Smart Yard".
In 2015, Visual Performance Management was introduced across the entire value chain: design, manufacturing, assembly, commissioning, and all the way to support functions.
Visual Performance Management has led to a cultural change and the introduction of new processes and tools (tables, post-it notes, computer files, etc.) designed to optimize team coordination, decision-making and project delivery.
These new processes were the first milestone in a large-scale organization, but they had limitations in regard to interactivity and efficiency.
In order to meet the digitization requirements of the "Smart Yard" progress plan, the Lean managers began researching, testing and deploying a solution that would not only facilitate Lean management rituals, but also accelerate their deployment throughout the organization.
Digitizing Lean practices
After a market analysis, Chantiers de l'Atlantique chose iObeya to tackle its digital transformation. The determining criteria for a solution were ease of deployment, unlimited customization, user friendliness, vast extension and integration possibilities, and ability to scale in a large enterprise.
The digitization of Lean Management practices has enabled all stakeholders to exchange information on common and cross-functional projects and improve overall performance, analysis, and problem solving. With iObeya, more information is available to everyone in one place, making team management easier.
What are the advantages of iObeya's solution for Chantiers de l'Atlantique?
Tool duplication for future projects
Specific interfaces to incorporate existing ERP site elements and ability to directly manage projects
Ease of deployment and scalability
Intuitive interface makes the solution easy to learn
Single platform improves visibility and communication between technical operators and management
An infinitely adaptable platform, except for the creation of managers.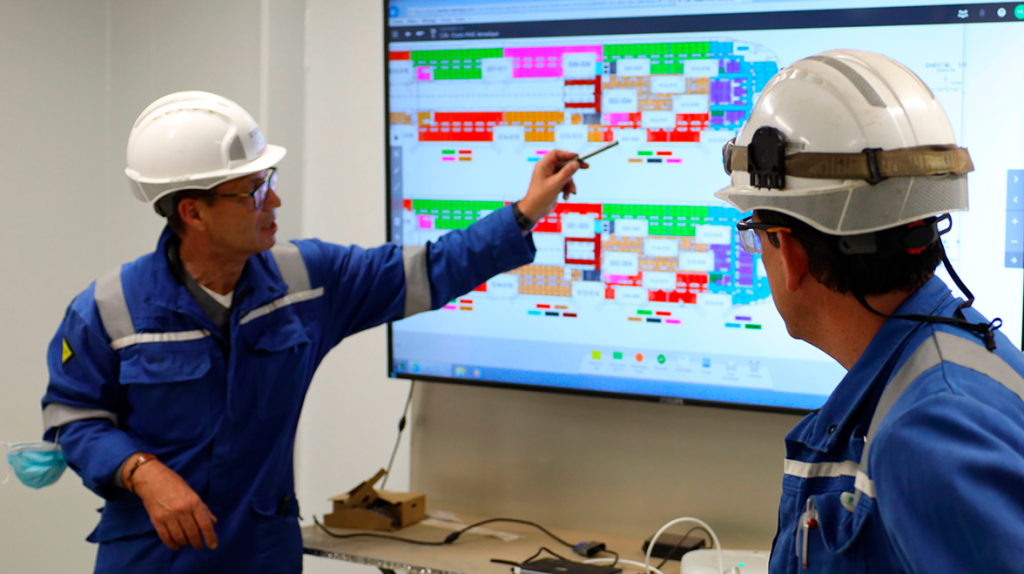 iObeya has undoubtedly accelerated the deployment of Lean Management within the company. Lean now represents almost half of the company's performance gains in our progress plan. iObeya has become an essential tool for the continuation of our project!
Patrick Duquennoy, Supply Chain Director and sponsor of the Lean Enterprise lever for Chantiers de l'Atlantique
What are the benefits of digitalizing lean practices?
After 2 years using iObeya, feedback is very positive. It's had a real "viral" effect that is now impacting all of the company's departments. On a global scale, almost 50% of Chantiers de l'Atlantique employees now use iObeya for their Lean manufacturing practices.
The design offices, who started using the solution first, quickly got the hang of it thanks to its intuitive interface. The solution was then quickly extended to the manufacturing, military and commissioning departments.
The first benefits appeared quickly, such as:
better team synchronization,
reduction of delays and quality issues due to the structuring and sharing of all necessary information,
more efficient information sharing and project management,
reduction of delivery delays and team coordination problems,
more reliable design and manufacturing cycles for equipment such as ships and electrical substations.
iObeya directly contributes to the company's progress plan by accelerating Chantiers de l'Atlantique's Lean Managerial and Digital transformation.