Hey, let's start your
iObeya journey!
Is it really possible, or even practical, to digitize Lean practices? Lean philosophy has been around for decades and many Lean practitioners highlight the significance of pen and paper execution. However, the acceleration of digital transformation and remote work due to COVID-19 has led many enterprises to question the imperative of digitizing their Lean practices. Working with teams all over the world is very challenging for project managers. Obviously a sticky note won't move simultaneously both in China and in the United States!
In our fast moving business environment, a company has to consider all opportunities to build a competitive edge. Digitizing Lean practices is one of them. As a first step, decision-makers have to manage three main trade-offs:
Dependency on technology vs. familiarity of pen and paper
Security and privacy of physical vs. digital information
Automation vs. people centricity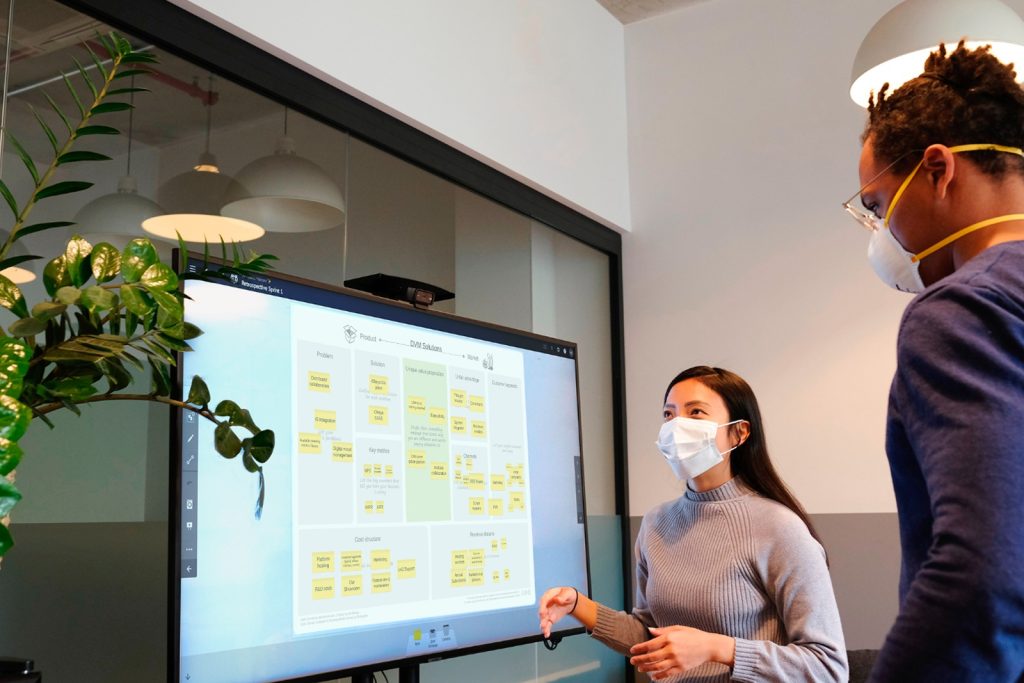 Paper vs. Digital - what works best for Lean?
An organization must evaluate its existing and desired balance between the robustness of pen and paper rituals and the reliance on technology. Both physical and digital practices will have their benefits and pitfalls, some of which we have outlined in the table below.
|   | Paper | Digital |
| --- | --- | --- |
| Decision Making Speed | Information flow on paper moves one decision layer to the next | Digital information flow and hybrid collaboration results with faster responses |
| Quality of Decisions | Limited to information written on paper | Access to accurate, in-depth data |
| Knowledge Management | Knowledge base is local and in the form of standard procedures Knowledge base is company-wide | Knowledge base is company-wide |
| Team Empowerment | Employees empowered to manage their board freely | Employees empowered to make decisions with data available in real-time |
| Standardization | Some work is standardized via manual efforts | All work is standardized due to interconnectivity and transparency |
| Security | Access rights are location specific, but no control over photo sharing | Access rights are adjustable per team member, ISO 27001 protected, but large hackers exist |
| Dependency | Expenses for whiteboards, with a limited surface area Free from electricity and data network | Little surface constraints with digital boards Dependant on internet and computers |
The greatest benefits we see regularly are when organizations leverage digital visual management, or digital obeyas, to empower employees to make faster and better decisions due to instantaneous access to key shared information.
And we have seen many great customer success cases at iObeya. For example, a large enterprise customer was able to handle their change management from majority paper-based rituals to majority digital rituals seamlessly within only a few months.
Change management was so successful that it went beyond our expectations in terms of digital literacy: for instance, one of the eldest team members on the shop floor, who never owned a PC, purchased a tablet for personal use after their experience with iObeya.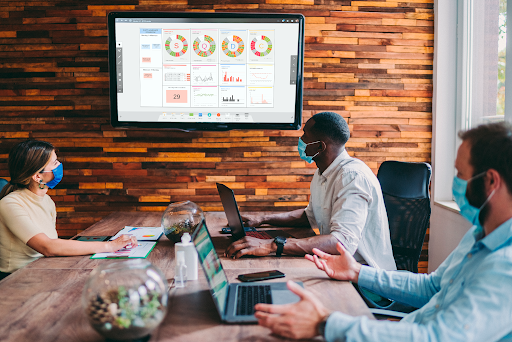 Ensure Security and Privacy of Information
Those who are familiar with paper-based obeyas have likely needed to cope with data security and privacy pain points, including:
The frustration of losing information due to sticky notes falling, cleaning crews accidentally disrupting the information, or simply not having access to the information when needed.
The setup of obeya rooms. A growing number of organizations use meeting rooms with large windows for enhanced transparency. Some information may need confidentiality which may be difficult to manage on paper.
In a physical obeya, there is no way to restrict the information to certain groups of people and there are always many concerns about the longevity of physical obeya boards.
On the other hand, in a digital format, threats of hacks and cyberattacks will never truly go away. Thankfully there are a number of ways to help ensure the security of shared digital information. For instance, iObeya is ISO 27001 certified and conducts vulnerability assessments and penetration tests to ensure customer data is safely encrypted.
Additionally, personal login credentials are required and each user has specific permissions for rooms, known as access rights. Some users may only view board information, while administrators can add boards, users, information and more. Outsiders can only gain access with specific links, codes, or user ID.
It is important for enterprises to assess the risks that exist in both the physical and digital worlds to strike a balance in their potential digital transformation.
Three reasons to choose a Digital Visual Management solution
Implementing a digital visual management system accelerates decision-making speed and quality due to enhanced human collaboration. In this era, implementing these changes effectively can be critical.
By further reducing response time, removing waste, and empowering decision making, companies secure their competitive edge.
Leading organizations can rely on digital obeyas with a security level that cannot be achieved via a physical obeya.
Finally, with the right balance of people centricity and savvy automation, organizations will capture the high value of scaled collaboration.
Assessing these three aspects ensures your enterprise will not fall behind as organizations around the globe embark on their digital transformation journey.
If you are ready to take your Lean practices to the next level with a digital solution, contact iObeya to request a demo or speak with one of our experts. 
Complete iObeya's contact form  and we will be in touch shortly to explore together how digitizing Lean rituals might best bring value to your organization.