Hey, let's start your
iObeya journey!
Named among the top 10 fastest-growing companies in 2019 by the Globe and Mail, ADI Development Group is the fastest-growing real estate developer in the region with approximately 100 employees.
Advised by "The Murli Group", ADI began undertaking a Lean transformation in 2019.
The challenge: adapt the Lean management principles and tools, initially designed for the manufacturing industry, to the real estate construction sector.
Founded in 2007,
ADI Development Group
builds award-winning sustainable residential communities and commercial working environments in the Greater Toronto Area. They manage the full lifecycle of real estate development from investment to planning, design, building, and management.
Productivity stagnates in the construction industry
While real estate development has skyrocketed worldwide and is expected to continue to increase even throughout the COVID-19 pandemic, McKinsey research shows that productivity in the construction industry has been flat for decades— roughly 98% of projects incur cost overruns or delays — costing trillions of dollars globally.
By contrast, productivity in the manufacturing industry nearly doubled over the same period.
According to the same study, Lean principles that apply to the manufacturing industry could work for construction. Therefore, actively looking for ways to reduce inventory, prevent rework, and reduce transportation and waiting time could significantly improve engineering productivity.
The ADI Group initially used traditional real estate development methods and, as mentioned in the above study, executives could see that construction projects tended to go over budget and fall behind schedule. According to Mr. Tariq Adi, CEO of ADI Group, this was mainly due to a lack of visibility into the various stages of the projects.
That's why ADI's top management, eager to efficiently develop their business, wished to adopt manufacturing industry's practices to :
increase productivity
reduce costs
carry out project development more efficiently.
Early 2019, ADI began its Lean transformation, which CEO Tariq Adi says is, "unprecedented in our industry."
Taking ownership of Lean principles
When ADI Development Group began implementing Lean principles, the Group first sought advice from the Lean Construction Institute (LCI) and the Lean Enterprise Institute (LEI) before choosing the international consulting firm "The Murli Group" to assist it in deploying a Lean strategy perfectly suited to its business. Coaching and Consulting are an essential step for any company wishing to undertake a successful Lean transformation. Indeed, it is important to adapt and design systems and tools specific to the environment and culture of each company.
"ADI leadership is very forward-thinking, from the executive ranks to the front lines. They're committed to making lean work for them," said Joe Murli, founder and CEO of the Murli Group.
For ADI, an essential part of the Lean transformation process was adapting Value Stream Maps to their industry.
The Value Stream Map (VSM) is a visual representation of all the steps involved in the creation and fulfillment of a product or service until it reaches the end customer.
Toyota's success is traditionally used as an example to promote the effectiveness of "Value Stream Maps" also called "Materials and Information Flow Mapping".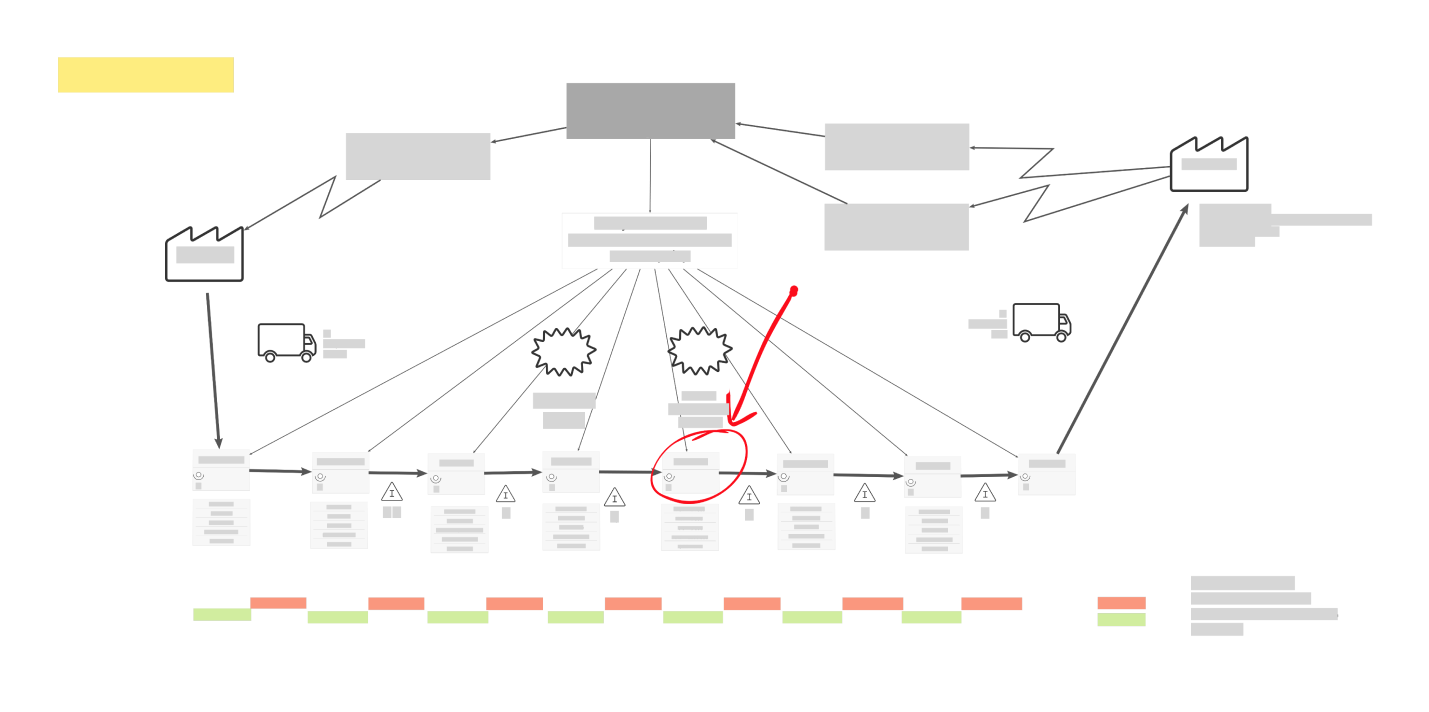 This visualization of all the flows required for a product production involves a system of symbols and tools that have been tested and perfected by the manufacturing industries (Toyota is a prime example).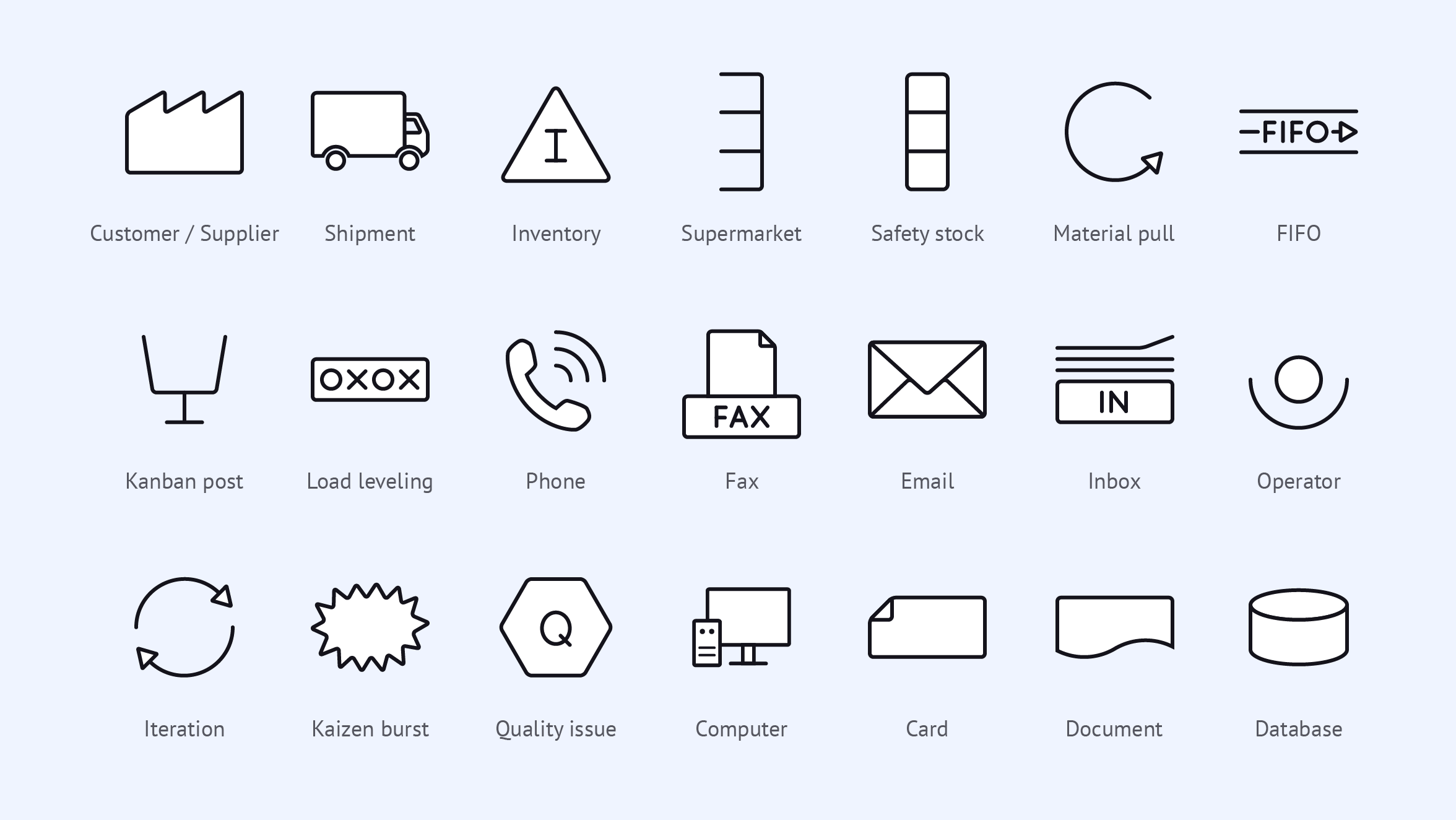 The "value stream map" allows individuals/teams, among other things, to efficiently identify the value added steps (VA) and non-value added items (NVA) over the entire production process. Thus a company will be able to :
better plan and manage the flow of information and materials needed to produce a product or service
solve problems and take appropriate action to eliminate costly delays and wastes
strengthen collaboration between teams. Indeed, the visualization of the whole value chain and not one specific step, helps each collaborator to understand the constraints and the imperatives of other teams.
At iObeya, we believe the productivity gains associated with this type of management can be utilized by all industries, provided that systems and tools are designed to meet the specific needs of each company.
iObeya, the software solution for implementing a Lean Management System
The Murli Group, assisting ADI in its Lean transformation process, took advantage of the flexibility of our solution to design Lean Management Systems and tools which adapt perfectly to their culture and constraints.
With iObeya we can "truly start from a white page and design systems adapted to each situation".
Joe Murli, founder and CEO of Murli Group.
Digitized, unlimited and collaborative Value Stream Maps
Value Stream Mapping is traditionally drawn on a whiteboard in physical rooms (obeyas). It is recommended to have a wall that can accommodate up to 3 meters of kraft paper, sheets, sticky notes and other elements.
For an organization like ADI, the implementation of traditional Value Stream Maps can be complex. Unlike the manufacturing industry, each project in the construction sector is unique and therefore each project must have its own Value Stream Map. ADI did the math and setting up a physical Obeya for each project would require at least four times the amount of office space than they currently have.
With digital Obeyas, ADI was able to create an unlimited number of digital rooms for each of its project leads, or "pilots", who are responsible for both the project and the Value Stream Map attached to it.
A communication tool for distributed teams
A construction site is, by nature, a distributed activity. Undoubtedly, the design and the good construction of a building are a direct result of the collective work of many trades.
In this specific context, the dematerialization of Obeyas, "Value Stream Maps" but also Kaizen events, Cost-Delivery-Quality boards (QCD) and all the types of mapping and reporting necessary for the management of a project, are essential.
iObeya's digital rooms allow each team to interact simultaneously on a common platform despite the physical distance between the teams.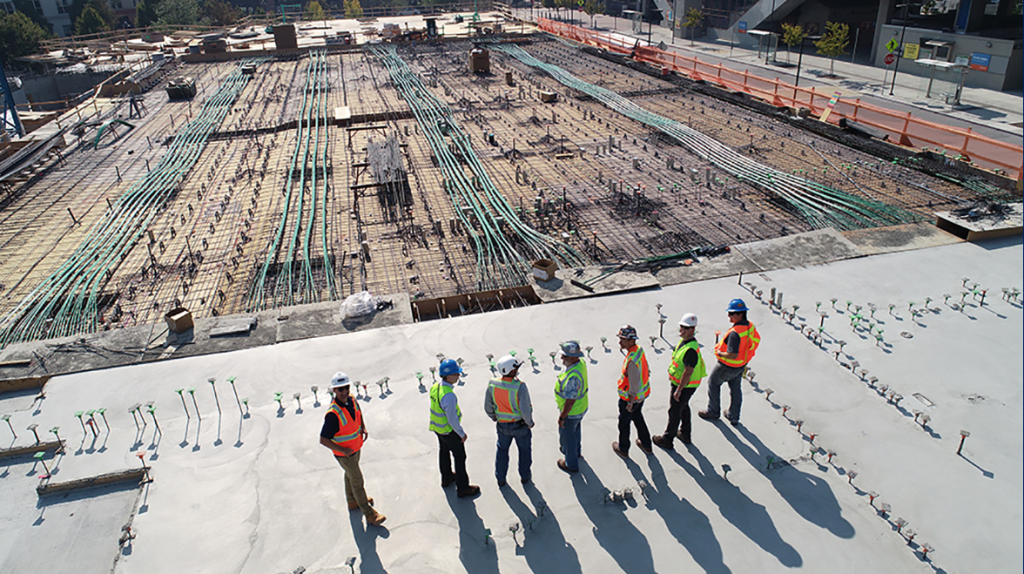 Secure sensitive information
In an Agile process, sometimes knowledge and workflows are captured "on the fly" on a Post-it note or in a whiteboard corner. This information and ideas are sometimes essential and remain on a precarious medium and are rarely digitized.
Information that cannot be actively shared or saved can lead to silos and/or the loss of data.
If you're not digitizing the work, it can end up in a bin. We went through a lot of pain from that.
Tariq Adi, CEO of ADI Group.
Adi was aware of the importance of securing the outcome of its work and made every effort to ensure traceability of critical information in Microsoft Excel. However, this additional work turned out to be too laborious and inefficient.
With iObeya, the work done on a project portfolio management or a part of the workflow is immediately available in a digital format ready to be shared, stored or printed. After each meeting, the information is carefully saved on servers and can be shared and consulted at any time by all members of the organization.
Every idea, every piece of information can always be found and teams can even "zoom in" to see it in full resolution and make the most of it. Your work always lives in iObeya!
Software flexibility and immediate adoption by teams
Adopting new software in an organization can be a challenging process. Many employees resist using new tools, especially if the tools are not intuitive or introduce cumbersome workflows.
That's why iObeya is fully customizable and designed to support each company's unique management systems and workflows. Our goal is to minimize the likelihood that employees will find the solution difficult or unintuitive.
In the iObeya rooms, each manager is free to choose what they want to display in their workspaces, whether it's Value Stream, Kanban boards, Performance Indicators, Cost-Delay-Quality (CDQ) boards, and more.
iObeya offered the closest thing to our existing workflows. We didn't see anything else in the market that could do that for us […] Our teams love it. They said they like it better than the old way of working.
Tariq Adi, CEO of ADI Group.
The results of a successful Lean transformation
ADI Development Group is a bold company with impressive growth. The group has gone from $10 million in revenue to over $2.1 billion in less than seven years.
The deployment of iObeya has helped ADI digitize its operations across the organization. These changes have resulted in significant time and cost savings, making the Group more competitive and attractive to its customers than ever.
We have succeeded by focusing on our customers and constantly challenging ourselves to provide them with better products
Saud Adi, co-founder of ADI Group.
Better overall project quality
ADI has adopted a very customer-centric approach. To ensure that the user journey is seamless from start to end, the construction organization uses another benefit offered by the iObeya solution: customer journey mapping.
The ability to visualize each step of the customer journey and accurately identify potential customer issues is a key feature of the system. ADI's Guarantee Department, which deals directly with its customers during the delivery of homes or offices and manages quality inspections, has been able to track customer performance indicators on a daily basis.
It gives me real-time clarity on where we stand and enables me to do my Gemba walks* and conduct meetings more effectively
Tariq Adi, CEO of ADI Group.
* « Gemba walk » is a japanese word meaning "where the reality is".
Increase productivity by eliminating waste
Tariq Adi frequently reminds us that the waste resulting from construction worldwide is more than $1 billion per year. Yet, for the CEO, even in the construction sector it is possible to standardize and streamline. Concrete, windows, and floors, for example, are essentially the same from one project to the next. Design improvements or material upgrades must be taken into account, but construction organizations can limit variations and become more efficient.
For the CEO, the construction sector should learn from the production and management methods of the industry. The "Lean journey" undertaken by ADI has been a success and has allowed the company to:
provide a better value proposition to its customers identify and reduce waste
strengthen the collaboration of its teams
to be part of a continuous improvement process.
That's the real benefit of lean: you are able to deliver not just an "as good" end product faster and at a lower total cost — but actually higher-quality. That's an unbeatable proposition.
Joe Murli, founder and CEO of the Murli Group.